Find this product on Logos.com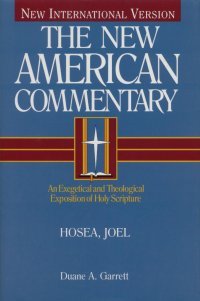 New American Commentary - Hosea, Joel
Vol. 19a
Highlights
A thorough, verse-by-verse analysis
Insightful and technical aimed at the serious Bible scholar
Great for the pastor or serious Bible student
Vast in scope, eventually to total 42 volumes
Over 40 scholars worked on the complete set
Named by the R. C. Ryan Center for Biblical Studies as one of the Best Tools for Preaching and Teaching
Product Details
The New American Commentary Series
In development for over a decade, The New American Commentary series is for those who have been seeking a commentary that honors the Scriptures, represents the finest in contemporary evangelical scholarship and lends itself to practical work of preaching and teaching. This comprehensive series serves as a minister's friend and a Bible student's guide.
The New American Commentary is based on the inerrancy of Scripture, focuses on the intrinsic theological and exegetical concerns of each Biblical book, and engages the range of issues raised in contemporary Biblical scholarship. Drawing on the skills and insight of over forty Bible scholars, the New American Commentary brings together scholarship and piety to produce a tool that enhances and supports the life of the church.
Highlights of This Volume
The implement employed in these two prophets to capture the attention and hearts of God's people is the symbol. In Joel it is the locust, a symbol of impending destruction. In Hosea the prophet himself--and his scorned but constant love--dramatically portrays God's message of grace and his call to repent. With his customary exegetical skill and theological insight, Duane Garrett guides us through these striking works of prophetic literature.
About the Author
Duane A. Garrett is professor of Old Testament at Bethel Theological Seminary, St. Paul, MN. He is the author of Proverbs, Ecclesiastes, Song of Songs, NAC, vol. 14; Angels and the New Spirituality; and Rethinking Genesis.
Endorsements
This detailed work on Hosea and Joel provides a thoroughly evangelical outlook. Dr. Garrett draws on a broad spectrum of disciplines, including exegesis, church history, and theology. He deals carefully and logically with controversial areas, such as the marriage of Hosea or the unity of Joel; and he is not afraid to put forward new solutions. While readers may not always agree with the solutions, they will have to consider carefully his arguments. This work should make a fine contribution to recent evangelical work on the Minor Prophets.