Find this product on Logos.com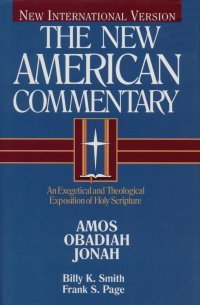 New American Commentary - Amos, Obadiah, Jonah
Vol. 19b
Highlights
A thorough, verse-by-verse analysis
Insightful and technical aimed at the serious Bible scholar
Great for the pastor or serious Bible student
Vast in scope, eventually to total 42 volumes
Over 40 scholars worked on the complete set
Product Details
The New American Commentary Series
In development for over a decade, The New American Commentary series is for those who have been seeking a commentary that honors the Scriptures, represents the finest in contemporary evangelical scholarship and lends itself to practical work of preaching and teaching. This comprehensive series serves as a minister's friend and a Bible student's guide.
The New American Commentary is based on the inerrancy of Scripture, focuses on the intrinsic theological and exegetical concerns of each Biblical book, and engages the range of issues raised in contemporary Biblical scholarship. Drawing on the skills and insight of over forty Bible scholars, the New American Commentary brings together scholarship and piety to produce a tool that enhances and supports the life of the church.
Highlights of This Volume
Amos portrays the Lord as a lion roaring against pride, greed, social injustice, violence, and empty religion. The exhortation is to seek life and await a messianic restoration. Obadiah echoes and amplifies Amos's prophecy of judgment against God's enemies on the day of the Lord and victory for God's people. Dr. Billy Smith skillfully focuses on the theological themes of these books and shows their significance for the church. Dr. Frank Page gives us a fascinating account of the thrilling and puzzling Book of Jonah, clarifying its proclamation of our God of sovereign grace. This volume contains much to nourish and strengthen believers and to equip ministers of God's Word.
About the Authors
Billy Kenneth Smith was born in Spearsville, Louisiana in 1928. Dr. Smith graduated Louisiana Polytechnic Institute in 1949 with a bachelor's degree in physical education and science and worked as a teacher and coach for four years at Quitman. He then went on to New Orleans Baptist Theological Seminary and received his Th.D. He was ordained to preach by the First Baptist Church of Houma, Louisiana. Dr. Smith was pastor of Charpentier Baptist Chapel in Montegut, Louisiana, Society Hill Baptist Church of Oakvale, Mississippi and Monte Sano Baptist Church of Baton Rouge, Louisiana. He served as pastor of First Baptist church from 1965 to 1970 during the celebration of the one hundred twenty-fifth anniversary of the church.
Dr. Smith was provost and dean of the graduate faculty at New Orleans Baptist Theological Seminary. He is a prolific writer and has produced many articles for Baptist publications, including the Illustrator.
Dr. Frank S. Page is a native of Robbins, North Carolina. Dr. Page holds his Ph.D. from Southwestern Baptist Theological Seminary in Fort Worth, Texas. Prior to that, he received the Master of Divinity degree, also from Southwestern Seminary. He also received the Bachelor of Science degree with honors from Gardner-Webb University in North Carolina, with a major in Psychology and minors in Sociology and Greek. He is currently the pastor of First Baptist Church of Taylors. Page was President of the Southern Baptist Convention from 2006-2008.
Dr. Page's speaking experience includes revivals, Bible conferences, family life conferences, lecture series at colleges and seminary chapels, and evangelism training conferences across the nation and overseas. His speaking engagements have taken him around the world to such places as Germany, Norway, Mexico, Israel, Ecuador, Australia, Nigeria, Brazil, Canada, and Africa. He has also taught adjunctively for both Southeastern and Southwestern seminaries.
Dr. Page is the author of several books and many articles. Among his books, Trouble with the Tulip, an examination of the five points of Calvinism, and Jonah, written for The New American Commentary. He wrote the Commentary on Mark for the Sunday School Board of the Southern Baptist Convention, as well as a booklet for the Stewardship Commission entitled, The Witnessing and Giving Lif. He is the lead writer for the Advanced Continuing Witness Training material. Dr. Page has also written articles for several magazines and theological journals.
Endorsements
This volume is readable and contains all the background information one might need to work with these books. Virtually all relevant literature has been used, and the authors have made judicious use of it. This is one of the best Old Testament volumes in this series.