Find this product on Logos.com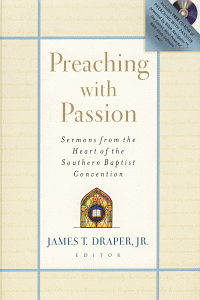 Preaching with Passion
Sermons from the Heart of the Southern Baptist Convention
Highlights
Features over 50 sermons from Adrian Rogers, Ed Young, O.S. Hawkins, Jim Henry, and Jack Graham
Product Details
Preaching with Passion features over 50 sermons including contributions from Adrian Rogers, Ed Young, O.S. Hawkins, Jim Henry, Jack Graham and many more. At your fingertips will be sermons that can be used by anyone — laypeople, pastors, part-time preachers — in a wide variety of situations.
About the Editor
James Thomas Draper, Jr. was born in Hartford, Arkansas in 1935. Draper graduated from Millby High School in Houston in 1953. He thereafter received a bachelor of arts degree from Baylor University in Waco in 1957. He obtained a Masters degree in theology from Southwestern Baptist Theological Seminary in Fort Worth in 1961. Draper has received honorary degrees from: Howard Payne University, Dallas Baptist University, California Baptist University and Campbell University.
Between 1956 and 1965 Draper has pastored in Texas, Missouri, and Oklahoma. In 1974 he became associate pastor at First Baptist of Dallas and in 1975 he accepted the pastorate of the First Baptist of Euless, Texas. Draper left Euless after sixteen years to assume the presidency of LifeWay in Nashville, Tennessee. After almost fifteen years in the position Draper retired. Draper is also the author of more than twenty-five Christian books. He has traveled in thirty-three countries to lead evangelistic services and activities as well as conferences and meetings with missionaries and Christian leaders in those countries. Draper resides in Colleyville, Texas in northeastern Tarrant County.
Endorsements
Dr. James T. Draper, Jr., provides us with a collection of sound, scriptural sermons from a variety of Southern Baptist leaders. You will find biblical enlightenment, enrichment, and encouragement in Preaching with Passion. I highly recommend it!