Find this product on Logos.com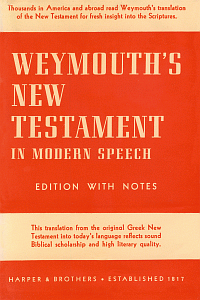 Weymouth's New Testament (WEY)
In Modern Speech
Highlights
Formal equivalence(word for word)
Product Details
Weymouth's New Testament in Modern Speech was actually published after his death in 1902. Weymouth's only intention in translating the Greek New Testament, "The Resultant Greek Testament" into English was to render a dignified modern English version with no theological or ecclesiastical bias. Many scholars believe Weymouth's New Testament in Modern Speech, is more accurate than the "Texus Receptus", which is also known as the "Received Text."
About the Author
Richard Francis Weymouth, noted linguist and New Testament scholar, was born in Devonport, England on October 26, 1822. He was the only son of Commander Richard Weymouth, and Ann Sprague-Weymouth. Richard Weymouth started his education at a private school in France. In 1843, he enrolled at University College, London, where he majored in classics. He received his B.A. in 1846, and his M.A. in 1849.
Endorsements
A most readable translation that combines a lucid style with grammatical accuracy. Old familiar phrases take on new significance.