Find this product on Logos.com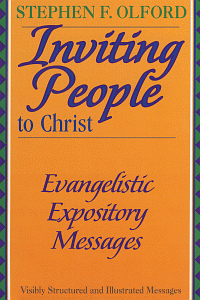 Inviting People to Christ
Evangelistic Expository Messages
Highlights
Part of the Stephen Olford Biblical Preaching Library
Visibly Structured and Illustrated Messages
Product Details
In Inviting People to Christ, Olford shares thirteen sermons, revealing his classic style of calling people to Christ. When it comes to evangelism, many pastors and teachers still find it difficult to "do the work of the evangelist." In this book, you will learn from a seasoned pastor who believes that reaching others and preaching the gospel is not only our duty to God but also our "debt to humanity."
Olford's thirteen evangelistic messages consist of:
complete outlines
full introductions and conclusions
multiple, detailed instructions
specific Biblical references
expanded development of expository points
Inviting People to Christ, one of the final volumes of the Stephen Olford Biblical Preaching Library, deals with such relevant gospel themes as God's grace, saving faith, eternal security, and the existence of heaven and hell. Many of the outlines use clever alliteration and each sermon concludes with a specific call to decision. This reference is a much needed addition to the library of any pastor, bi-vocational preacher, Bible study leader, or lay speaker who is interested in Biblical evangelism.
About the Author

Stephen F. Olford was born in Zambia and was raised in Angola, where he committed his life to Christ and witnessed first-hand the transforming power of God and His Word. He spent his college years in the United Kingdom. After receiving ministry training, Dr. Olford was appointed an Army Scripture Reader during Word War II, and he launched a Young Peoples Christian fellowship in Newport, South Wales.
In 1953, Dr. Olford's years of pastoral ministry began by serving the Duke Street Baptist Church in Richmond, Surrey England, 1953-1959 and then the Calvary Baptist Church in New York City, 1959-1973. He pioneered a Christian TV program, Encounter, in New York, and his Sunday morning services were broadcast around the world on radio.
Dr. Olford moved to Memphis, Tennessee in 1985 to develop a training program and Center to encourage and equip preachers and teachers of God's Word. In 1988 the Stephen Olford Center for Biblical Preaching was dedicated, and it remains the headquarters of Olford Ministries International.
Dr. Olford has received numerous awards, honorary degrees and distinctions. As an ordained Baptist minister and a conservative evangelical by conviction, he ministered across many denominational, cultural, and racial lines. Besides his extensive preaching ministry. He authored numerous books, booklets, and preaching resources. Dr. Olford passed away in the fall of 2004.