Find this product on Logos.com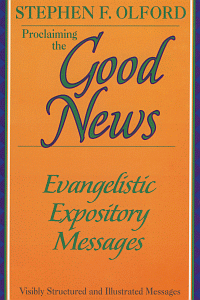 Proclaiming the Good News
Evangelistic Expository Messages
Highlights
Part of the Stephen Olford Biblical Preaching Library
Visibly structured and illustrated messages
Product Details
Rahab, John the Baptist, and the Ten Virgins - these are only a few of the Bible characters that bring vitality to these probing expository messages. In Proclaiming the Good News, each of the thirteen messages deals with a specific gospel theme designed to help speakers win people to Christ. Among the evangelistic themes are "The Miracle of Conversion" and "Radical Repentance," with every message concluding with a specific call to decision.
About the Author

Stephen F. Olford was born in Zambia and was raised in Angola, where he committed his life to Christ and witnessed first-hand the transforming power of God and His Word. He spent his college years in the United Kingdom. After receiving ministry training, Dr. Olford was appointed an Army Scripture Reader during Word War II, and he launched a Young Peoples Christian fellowship in Newport, South Wales.
In 1953, Dr. Olford's years of pastoral ministry began by serving the Duke Street Baptist Church in Richmond, Surrey England, 1953-1959 and then the Calvary Baptist Church in New York City, 1959-1973. He pioneered a Christian TV program, Encounter, in New York, and his Sunday morning services were broadcast around the world on radio.
Dr. Olford moved to Memphis, Tennessee in 1985 to develop a training program and Center to encourage and equip preachers and teachers of God's Word. In 1988 the Stephen Olford Center for Biblical Preaching was dedicated, and it remains the headquarters of Olford Ministries International.
Dr. Olford has received numerous awards, honorary degrees and distinctions. As an ordained Baptist minister and a conservative evangelical by conviction, he ministered across many denominational, cultural, and racial lines. Besides his extensive preaching ministry. He authored numerous books, booklets, and preaching resources. Dr. Olford passed away in the fall of 2004.