Find this product on Logos.com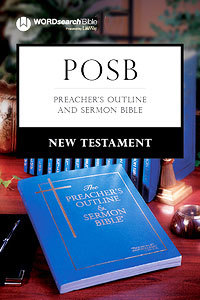 The Preacher's Outline and Sermon Bible New Testament Package
This title works with the following Wordsearch products
Desktop
Highlights
Makes sermon preparation fast and easy
Contains a complete outline of each book covered
Great for pastors, teachers, and students of the Bible
Packed with supporting Scriptures and practical applications
Cross-reference any verse or passage in the New Testament
Product Details
The Preacher's Outline and Sermon Bible (POSB) is Wordsearch's bestselling commentary of all time. It is also the world's top sermon outline tool, with over one million copies in print.
You'll quickly discover that Wordsearch makes the POSB more useful and valuable than owning the printed edition. Anytime you are studying a passage of Scripture, Wordsearch can instantly assemble the exact information you want, making it easy to create powerful, soul-winning sermons and lessons. You can search by Bible verse or over 4,000 biblical topics.
The POSB gives you detailed, verse-by-verse sermon outlines for every Bible passage with outlined sub-points, supporting Scripture, commentary, and practical applications that you can personalize into sermons. It is a favorite of not only preachers but students and Bible teachers too.
Using the POSB will lift your study of God's Word to a new level. Everything you'll discover is assembled in a way that makes it easy to preach, teach, or share with others.
POSB features:
Verse-by-verse sermon outlines of each passage
Inspiring commentary
Practical applications that you can preach and teach
Master Subject Index that will help you preach and teach many lessons on any topic you choose
Deeper Studies that discuss key biblical words and concepts that require further study in more detail
Key biblical words and concepts that require further study are taken in more detail
The POSB New Testament Package includes all 14 New Testament volumes plus Matthew Henry's Concise Commentary on the Whole Bible, Easton's Illustrated Bible Dictionary, Hitchcock's Dictionary of Bible Names, Talking Strong's Greek and Hebrew Dictionary, Nave's Topical Bible, Torrey's Topical Textbook, Torrey's Treasure of Scripture Knowledge, Foxe's Book of Martyrs, Bible Reading Plan, Bible Maps, and Minister's Personal Handbook.
Learn more about the POSB in the video below:
Endorsements
I have used these outstanding materials for several years. They are absolutely the finest I know of for the busy preacher, pastor, teacher, church leader, or layperson. I want my In Touch staff to begin using them as a primary resource, especially Wordsearch CD-ROM.
Products Included In This Bundle