Find this product on Logos.com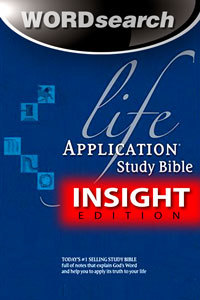 Life Application, Insight Edition
Highlights
Includes all of the Life Application Study Bibles - Kid's, Student's, Adult's
Product Details
The Life Application® Study Bible is the world's #1 best-selling study Bible. Here's why:
The secret is in the Life Application Study Notes. Every passage of scripture contains these Study Notes. There are over 10,000 of them, and it's like having a mini-commentary for each verse. Each Study Note gives you: 1. An Explanation that ties the note directly to a Scripture passage. 2. A Bridge that explains a timeless truth and makes it relevant to your life today. 3. The Application shows you how to take this truth and apply it to your own personal situation, like your job, family, neighborhood and country.
Endorsements
The Life Application Bible is a great step forward in helping Christians apply the Bible's life-changing message in their own lives.
The Life Application Bible is a concrete step toward allowing the Spirit of God to transform the reader into a modern-day living epistle.
Products Included In This Bundle