Find this product on Logos.com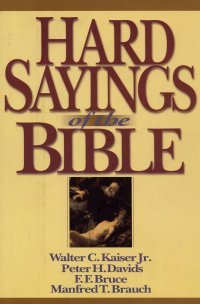 Hard Sayings of the Bible
Highlights
Offers explanations of over 500 tough Bible passages
Combines the content of 5 popular Hard Sayings Series books with commentary on 100 passages not previously covered
Features 12 introductory articles on miracles, the reliability of Scripture, God's character, genealogies, differences among Gospel accounts and more
Offers historical, cultural, linguistic and just plain common-sense perspective on difficult passages
Named as one of the 850 Books for Biblical Expositors by the Master's Seminary
Named one of the Best 100 Academic Christian Books by Present Testimony Ministries
Product Details
Are you grappling with a difficult verse in the Bible? And are you looking for a short, easy-to-read answer that really makes sense without explaining away the verse?
Hard Sayings of the Bible is the handy reference book you need. Here you will find explanations of over five hundred of the most troubling verses to test the minds and hearts of Bible readers. Four seasoned scholars, all with a notable gift for communicating with people in the pew, take you behind the scenes to find succinct solutions to a wide variety of Bible difficulties, ranging from discrepancies about numbers to questions about God's justice.
Historical, cultural and linguistic backgrounds shed light on these passages and not only help explain what they meant in Biblical times but also show how they are relevant today.
Now carefully cross-referenced with over 100 new verses explained, as well as a dozen new introductory articles on chronology, miracles, archeology, prophecy and more, Hard Sayings of the Bible offers the combined resources of five previous volumes that have over 250,000 copies in print.
About the Authors
Walter Christian Kaiser, Jr. was born into a German Baptist home in Folcroft, Pennsylvania in 1933. Kaiser entered Wheaton College in 1951. While at Wheaton he majored in Bible and minored in Greek and philosophy. Kaiser worked his way through both college and seminary, still finding time to sing in the chapel choir and to teach in Sunday schools on Chicago's South Side.
By his own reckoning, Kaiser's interest in the Old Testament was first sparked by a high school biology class in which the Genesis account was kindly, but firmly, debunked. When Kaiser dared to voice another opinion, he was challenged to do a report that would convince his teacher otherwise. Undaunted, Kaiser prepared a forty-page paper complete with anthropological drawings and bibliography. His interest in the Old Testament continued while at Wheaton College. During his last year, in addition to teaching two senior apologetics courses at Wheaton College, Kaiser served as assistant pastor at the Geneva Baptist Church.
After graduating from Wheaton Graduate School in 1958, Kaiser taught full-time at Wheaton College. During the summer months he pursued further graduate studies in Old Testament and ancient history at Brandeis University. His course of study at Brandeis included Middle and Late Egyptian hieroglyphics, Ugaritic, Homeric Greek, biblical Hebrew, Old Babylonian cuneiform, Assyrian cuneiform, and the history and archeology of the ancient Near Eastern empires.
In the late fall of 1963, Kaiser was asked to teach a class at Trinity Evangelical Divinity School. In the fall of 1966 he joined the Trinity faculty on a full-time basis. In 1980 Kaiser assumed the responsibilities of vice president and academic dean of Trinity and continued in that office until June of 1992. In the fall of 1993 he accepted and invitation from Gordon-Conwell Theological Seminary to serve as the first Colman M. Mockler Distinguished Professor of Old Testament. In 1997 Kaiser assumed the presidency of Gordon-Conwell while retaining the Mockler chair. Kaiser retired from the presidency of Gordon-Conwell on July 1, 2006. Currently he is President Emeritus and Distinguished Professor of Old Testament and Ethics at Gordon-Conwell Theological Seminary in Hamilton, Massachusetts.
Peter H. Davids earned his BA, Wheaton College; M. Div. Trinity Evangelical Divinity School; Ph.D. Victoria University of Manchester. Davids is an ordained Anglican priest and provides ministerial services to churches as requested. He is the Chaplain of the International Order of St. Luke the Physician, leading seminars on the healing ministry of the church. Davids is a published author, with, among other publications: A Commentary on the Epistle of James, The First Epistle of Peter and 2 Peter and Jude.
Dr. Davis is a Biblical and theological consultant to churches and movements in the German speaking world, North America, and elsewhere. He is a frequent contributor to Equipped, a magazine of the German-speaking Vineyard movement. He has been a teacher and professor at a variety of institutions around the world, including: Institute für Gemeindewachstum und Weltmission , Zürich, Switzerland, Regent College, Schloss Mittersill Study Centre, Mittersill, Austria, Trinity Episcopal School for Ministry, Houston Graduate School of Theology, Houston Baptist University, Tung Fook Bible College, Hong Kong, and Westminster Theological Centre, London, in the UK.
Frederick Fyvie Bruce was born in 1910 at Elgin, Moray, in Scotland. Bruce was educated at the University of Aberdeen, Cambridge University and the University of Vienna. After teaching Greek for several years first at the University of Edinburgh and then at the University of Leeds he became head of the Department of Biblical History and Literature at the University of Sheffield in 1947. In 1959 he moved to the University of Manchester where he became Rylands Professor of Biblical Criticism and Exegesis. In his career he wrote some thirty-three books and served as editor of The Evangelical Quarterly and the Palestine Exploration Quarterly. He retired from teaching in 1978.
Bruce was a distinguished scholar on the life and ministry of Paul the Apostle, and wrote several studies the best known of which is Paul: Apostle of the Heart Set Free. He also wrote commentaries on several biblical books including Romans, Acts of the Apostles, 1 & 2 Corinthians, The Gospel and Epistles of John, and the Epistle to the Hebrews. His work New Testament Documents: Are They Reliable? is considered a classic in the discipline of Christian apologetics.
Bruce was in Christian fellowship at various places during his life, including both the Exclusive and Open Plymouth Brethren. However, he did not affirm the dispensationalism and pretribulationism usually associated with the brethren. He was honored with two scholarly works by his colleagues and former students, one to mark his sixtieth and the other to mark his seventieth birthday. He was elected a Fellow of the British Academy, and served as President of the Society for Old Testament Study, and also as President of the Society for New Testament Study. He is one of a handful of scholars thus recognized by his peers in both fields.
Manfred T. Brauch, Ph.D., McMaster University, is a retired professor of biblical theology and past president of Palmer Theological Seminary of Eastern University in Philadelphia, Pennsylvania. He is the author of Set Free to Be: A Study in Romans, and Hard Sayings of Paul. Since 2004, Brauch and his wife have done long-term volunteer work in medical missions and theological education in Chile, Russia and Cameroon, West Africa.