Find this product on Logos.com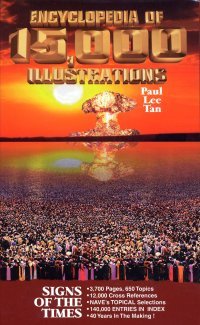 Encyclopedia of 15,000 Illustrations
Highlights
One of the best known collections of illustrations
650 Topics
12,000 Cross References
Nave's Topical selections
140,000 Entries
40 Years in the making!
Product Details
Compiled by Dr. Paul Lee Tan, this treasury features over 15,000 illustrations, anecdotes, facts and quotations for pastors, teachers and Christian workers. Encyclopedia of Illustrations is a great place to find new and meaningful illustrations! Christ-centered anecdotes, real-life happenings, current events with special interest, fascinating records, proverbs and epigrams, unusual items from history and the daily news... these and more are now arranged into one comprehensive volume
About the Editor:
Dr. Paul Lee Tan received his Th.D., at Dallas Theological Seminary. He is an author, Bible Scholar and Conference Speaker of Eschatology. Tan is Pastor Emeritus, of Grace Christian Church, Quezon City, Philippines. In 1987 Dr. Tan became Pastor Emeritus; English Fellowship, of Dallas Chinese Bible Church.
Endorsements
My personal library is filled with many volumes which contain illustrations, most of which I never use. But this book is vastly different. I find that it is filled with thousands of illustrations that are practical, helpful and usable. I recommend it highly, without qualifications.
The Encyclopedia of 15,000 illustrations is more than thorough, practical and appropriate, and catalogued for easy reference. Any minister would find it an asset