Find this product on Logos.com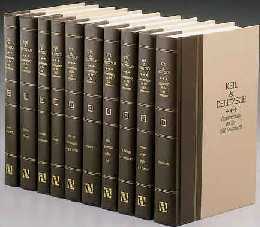 Keil and Delitzsch Old Testament Commentary
Highlights
Old Testament word studies
Theologically moderate/conservative
Written from a Reformed perspective
Named as one of the 850 Books for Biblical Expositors by the Master's Seminary
Product Details
First published in 1866, Keil & Delitzsch's Commentary on Old Testament has evolved into a must-have reference tool for in-depth study of the Old Testament. This classic was originally written in German, by Johann .F. Keil, and Franz Delitzsch and was later translated into English by Matthew Easton, who published Easton's Bible Dictionary, with James Martin and Francis Bolton.
One of the most quoted reference works on the Old Testament, this commentary elaborates section by section to examine the language, structure, and biblical & historical context of each passage. Hebrew words and grammar are used in the content, so you can follow each train of thought. This is a great addition to anyone's library that wants to better understand the relevance of the Old Testament and how it applies to our lives today.
Complete list of volumes:
Volume One: Pentateuch
Volume Two: Joshua, Judges, Ruth, 1 & 2 Samuel
Volume Three: 1 & 2 Kings, 1 & 2 Chronicles
Volume Four: Ezra, Nehemiah, Esther, and Job
Volume Five: Psalms
Volume Six: Proverbs, Ecclesiastes, and Song of Songs
Volume Seven: Isaiah
Volume Eight: Jeremiah, Lamentations
Volume Nine: Ezekiel, Daniel
Volume Ten: Minor Prophets
About the Authors:
Johann Friedrich Karl Keil or Carl Friedrich Keil (26 February 1807 – 5 May 1888) was a conservative German Lutheran Old Testament commentator. He was born at Lauterbach near Oelsnitz, Saxony, and died at Rätz, Saxony. Keil was a student of Ernst Wilhelm Hengstenberg (1802-1868).
Franz Delitzsch (1813, Delitzsch - March 4, 1890) was a German Lutheran theologian and Hebraist. He held the professorship of theology at Rostock from 1846 to 1850, at Erlangen until 1867, and after that at Leipzig until his death. Delitzsch wrote many commentaries on books of the Bible, Jewish antiquities, biblical psychology, a history of Jewish poetry, and Christian apologetics.
He defended the Jewish community against anti-Semitic attacks and translated the New Testament into Hebrew. In 1880 he established the Institutum Judaicum[1] in Leipzig for the training of missionary workers among Jews.
Today Delitzsch is best known for his translation of the New Testament into Hebrew. Delitzsch's translation is still considered the standard New Testament edition in Hebrew and in its 10th Edition it was revised by a young Arnold Bogomul Ehrlich at Delitzsch's insistence. This edition was to be utilized for proselytization among Jews. It is remarkable that these editions were composed before the modern revival of Hebrew, but the translations still remain fresh and alive for readers today.
Delitzsch also collaborated with J. F. K. Keil on a commentary series which covers the whole of the Old Testament and is still in print, having first appeared in 1861. Delitzsch contributed the commentaries on Job, Psalms, Proverbs, Ecclesiastes, Song of Solomon, and Isaiah.
Endorsements
An invaluable work combining sound exegesis with solid exposition.
Let our biblical students not only master the facts and logic, but catch the spirit of these commentaries, and we can have no fear for the issue of that conflict with Rationalism and Popery united, by which Protestantism in this country seems to be threatened.
Distinguished by careful investigation of the meaning of the text. This is a most important help to the expositor. The student will not, however, find much in the way of reflections and doctrines.
Unquestionably the most valuable work on this inexhaustibly interesting Scripture that has reached us from Germany.
'These volumes' says Professor E.J. Young 'represent the best of conservative Protestant thought.' Students who have some knowledge of Hebrew will profit most from these volumes, as references are often made to the Hebrew text, but all readers can derive benefit.