Find this product on Logos.com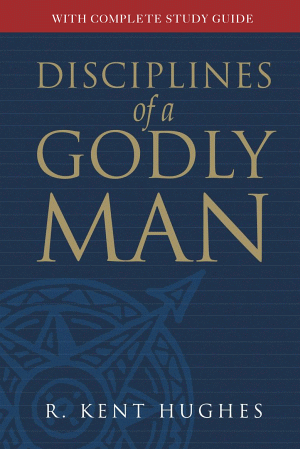 Disciplines of a Godly Man
10th Anniversary Edition
Highlights
From the senior editor of the Preaching the Word Series
Includes Companion Leaders Guide
Product Details
Our churches and homes need men willing to follow the path of godliness no matter what the cost. Disciplines of a Godly Man has been speaking to the hearts of men for the past 10 years, and its words are still relevant. Using engaging illustrations, scriptural wisdom, practical suggestions and study questions, R. Kent Hughes offers a frank biblical discussion on major areas of Christian manhood: family, godliness, leadership, ministry and more. This newly revised edition is for every man who wants to know what it means to be a Christian in today's world.
About the Author

R. Kent Hughes is Senior Pastor Emeritus of College Church in Wheaton, Illinois. Hughes is the author of numerous books and is also the editor and contributor for Preaching the Word series, including Mark: Jesus, Servant and Savior, which received the E.C.P.A. Gold Medallion Book Award for best commentary in 1990. Hughes served as Senior Pastor of College Church for 27 years and retired at the end of 2006. He came to Wheaton from California where he pastored two churches. He holds a BA from Whittier College, an MDiv from Talbot School of Theology, a DMin from Trinity Evangelical Divinity School and a DD from Biola University. Currently he lives in Washington state with his wife, Barbara, and he is the father of 4 and grandfather of 21 children.
Endorsements
Discipline is a subject about which the scriptures say much, but contemporary authors have been peculiarly silent. Kent Hughes fills a gaping void with this superb volume....If there is a spark of spiritual desire in your soul, this book will surely kindle it into a blazing passion for godly discipline.
To open this book and find someone taking seriously the biblical call of agonizing to enter the kingdom and boxing and sweating like a champion to get victory over sin is the most refreshing thing I could have set my eyes on.
An outstanding volume for men and women alike! Over 250 pages devoted to the practical outworking of discipline on subjects like purity, marriage, prayer, the tongue, the mind, our work, leadership, ministry, and many, many more. I guarantee: Digest this book and you will bid the blahs farewell.
I enjoyed reading Disciplines of a Godly Man because it challenged my spirit. I highly recommend it to men who are not thin-skinned.