Find this product on Logos.com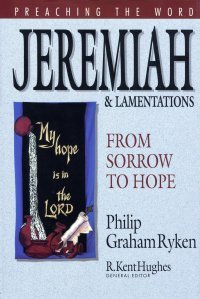 Preaching the Word - Jeremiah and Lamentations
From Sorrow to Hope
Highlights
Noted for its commitment to Biblical authority
Clear exposition of scripture
Practical Application
Named by the R. C. Ryan Center for Biblical Studies as one of the Best Tools for Preaching and Teaching
Product Details
The "Weeping Prophet," the rabbis said, began wailing the moment he was born. Jeremiah had reason to weep—he witnessed the devastating consequences of life without God.
Sadly, the relativism Jeremiah saw in ancient Israel predominates in America today. That's why his words are so relevant for our lives. Better than anyone else, Jeremiah exemplifies through his courage, passion, even his sufferings, how believers can live for God in a society that has turned against Him.
While the book of Jeremiah shared the last, desperate days of the Jerusalem he loved, Lamentations expresses the cries of his heart. Yet they reveal more than the prophet's grief—they are an attempt to reflect on the meaning of human suffering. Lamentations gives voice to the deepest agonies, with the hope that some comfort may come from crying out to God for mercy. Together the two books illustrate the eternal principle that man reaps what he sows
It is a lesson the world and the church needs to hear. With the heart of a pastor and the knowledge of a scholar, Philip Graham Ryken applies these words of life to us today. His commentary will not only help you understand and teach from these spiritually relevant books, but inspire you with the courage and passion of God's personal call for you to live in these times.
About the Author
Philip Graham Ryken is the pastor of the historic Tenth Presbyterian Church in Philadelphia. He graduated from Wheaton College, Illinois in 1988, from Westminster Theological Seminary in 1992 and from the University of Oxford in 1995 with a Ph.D in Historical Theology. He became a member of the pastoral staff of Tenth Presbyterian Church in 1995 and became the senior pastor in 2000. He is a member of the Alliance of Confessing Evangelicals.
He has written over twenty books dealing with the Christian faith and life. Some of his books are Jeremiah and Lamentations: From Sorrow to Hope, The Message of Salvation, Exodus: Saved for God's Glory, Tenth Presbyterian Church: 175 Years of Thinking and Acting Biblically, Written in Stone: The Ten Commandments and Today's Moral Crisis, and When You Pray: Making the Lord's Prayer Your Own.
Endorsements
The Preaching the Word Commentary is one of my favorites. The focus upon explaining the text with preaching it as the goal makes the series resonate with the priorities of the pulpit. No academic aloofness here, but down-to-earth, preacher meat for God's people.