Find this product on Logos.com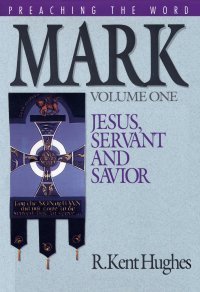 Preaching the Word - Mark, Volume 2
Jesus, Servant and Savior
Highlights
Noted for its commitment to Biblical authority
Clear exposition of scripture
Practical Application
Second Volume of a two volume book in the series
Product Details
In our age of aggressive evil and apathetic faith, the Gospel of Mark resounds with the dynamic power of the Lord Jesus Christ. Perhaps the most dramatic and action-packed of the synoptic Gospels, Mark's writing continues to inspire increased commitment in the Church at large.
Mark's portrayal of Christ as the Servant-Savior takes on fresh relevance in these masterful expositions by respected pastor/author R. Kent Hughes. With careful exegesis, the author draws from the text many practical lessons for everyday living and effective ministry. His numerous illustrations reflect wide interests, extensive reading, and years of experience pastoring and counseling those who seek to know Christ and walk in His ways.
This second volume covers Mark 9:2-16:20, the culmination of Jesus' ministry on earth. Seen in glory on the Mount of Transfiguration, challenged by religious skeptics, the Christ moves inexorably toward the Cross, where history's greatest battle would be fought and won.
Those who preach, teach, and study will find this book a gold mine of helpful information. With divisions and outlines that are never forced, but flow naturally from the text, Mark will be a great boon to those charged with communicating the Word, and to all who seek to grow in their faith through personal Bible study.
About the Author

R. Kent Hughes is Senior Pastor Emeritus of College Church in Wheaton, Illinois. Hughes is the author of numerous books and is also the editor and contributor for Preaching the Word series, including Mark: Jesus, Servant and Savior, which received the E.C.P.A. Gold Medallion Book Award for best commentary in 1990. Hughes served as Senior Pastor of College Church for 27 years and retired at the end of 2006. He came to Wheaton from California where he pastored two churches. He holds a BA from Whittier College, an MDiv from Talbot School of Theology, a DMin from Trinity Evangelical Divinity School and a DD from Biola University. Currently he lives in Washington state with his wife, Barbara, and he is the father of 4 and grandfather of 21 children.
Endorsements
This series will minister to a pastor's soul as well as give him an immense resource for his preaching. And it will minister to the parishioner wonderfully in personal Bible study. The reader will be filled with fresh thoughts about our Lord as well as joyful encouragement for himself. That is what happened to me in reading this.