Find this product on Logos.com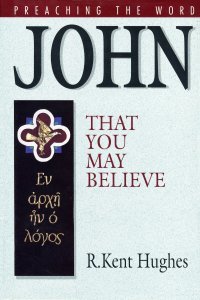 Preaching the Word - John
That You May Believe
Highlights
Noted for its commitment to Biblical authority
Clear exposition of scripture
Practical Application
Product Details
While each of the Gospels presents Christ with a distinct emphasis, the Gospel of John focuses on His greatness. As the timeless Creator-God of the universe. As the Word made flesh. As the gracious Lover of our souls who is the only Way to the Father.
Instead of detailing the facts and events of His earthly life, as the other Gospel writers did, John concentrates on the meaning of Jesus' words and the message of His works, clearly presenting Him as the long-awaited Messiah with one mission in mind—to do the work of the Father who sent Him.
The apostle's tremendous vision of Christ has, time and time again, opened the eyes of unbelievers to who Jesus is and to His singular role in our redemption. But its effect on Christians is equally profound, because in John's account the serious reader finds an ongoing, expanding view of the Savior's greatness and the wondrous meaning of His ministry. A view that widens and deepens with each return to this Gospel of John.
Follow along with Pastor Kent Hughes in this engaging, verse-by-verse commentary as he leads you through this magnificent Gospel. His careful exposition and wise application will guide you to a richer understanding of not only God's greatness, but of His great goodness to us all.
About the Author

R. Kent Hughes, Senior Pastor Emeritus of College Church in Wheaton, Illinois, earned his D.Min from Trinity Evangelical Divinity School. He has authored numerous books for Crossway, including a number of volumes in the popular Preaching the Word series. He is also the series editor.
Endorsements
This series will minister to a pastor's soul as well as give him an immense resource for his preaching. And it will minister to the parishioner wonderfully in personal Bible study. The reader will be filled with fresh thoughts about our Lord as well as joyful encouragement for himself. That is what happened to me in reading this.