Find this product on Logos.com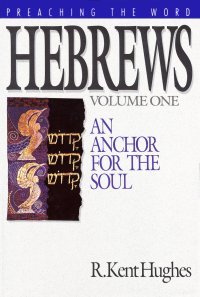 Preaching the Word - Hebrews, Volume 1
An Anchor for the Soul
Highlights
Noted for its commitment to Biblical authority
Clear exposition of scripture
Practical Application
Product Details
The book of Hebrews conveys a double dose of spiritual power. It not only presents the greatness of Christ in ways no other New Testament writing does, but it repeatedly demands a heart response from the reader. No one can study Hebrews and not grow spiritually and come face to face in a new way with Christ.
It is also true that no New Testament book has had more background research than Hebrews, and none has spawned a greater diversity of opinion. However, virtually all agree that the grand theme of this epistle is the supremacy and finality of the Lord Jesus Christ.
Life-changing themes come from God to us in this marvelous epistle. The unequaled glories of Jesus Christ—the solemn danger of drifting away from dependence on divine grace & a heavenly high priest who understands and is ever ready to help & the rest only God can give, even in the middle of trials and of demanding ministry & the hope that is ours through a blood covenant with an awesome God—these and other topics from Hebrews must be understood and put to work practically if we are to live and serve as God's people today.
Those who preach, teach, and study the Word of God will find this book a gold mine of helpful discussion a Bible book easily misunderstood and often overlooked. With divisions and outlines that are never forced but flow naturally from the text, Hebrews will be a great resource for all who desire to communicate God's truth and seek to grow in their own faith through personal Bible study.
About the Author

R. Kent Hughes is Senior Pastor Emeritus of College Church in Wheaton, Illinois. Hughes is the author of numerous books and is also the editor and contributor for Preaching the Word series, including Mark: Jesus, Servant and Savior, which received the E.C.P.A. Gold Medallion Book Award for best commentary in 1990. Hughes served as Senior Pastor of College Church for 27 years and retired at the end of 2006. He came to Wheaton from California where he pastored two churches. He holds a BA from Whittier College, an MDiv from Talbot School of Theology, a DMin from Trinity Evangelical Divinity School and a DD from Biola University. Currently he lives in Washington state with his wife, Barbara, and he is the father of 4 and grandfather of 21 children.
Endorsements
This series will minister to a pastor's soul as well as give him an immense resource for his preaching. And it will minister to the parishioner wonderfully in personal Bible study. The reader will be filled with fresh thoughts about our Lord as well as joyful encouragement for himself. That is what happened to me in reading this.