Find this product on Logos.com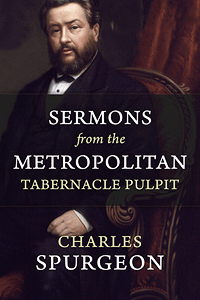 Spurgeon's Sermons from the Metropolitan Tabernacle Pulpit
Highlights
Includes all the sermons from Metropolitan Tabernacle Pulpit and the New Street Pulpit
Features a topical index not included in the books for sermons and sermon illustrations
Contains 3563 complete sermons
The Magnum Opus of Charles Haddon Spurgeon
The collected sermons fill 63 volumes equivalent to the 27 volume ninth edition of Encyclopedia Britannica, and "stands" as the largest set of books by a single author in the history of Christianity"
Enough for a sermon a week for over 68 years
A favorite of Pastor Chuck Smith
Product Details
This collection of sermons from Charles Spurgeon not only features the 57 volume set of the Metropolitan Tabernacle Pulpit, original unabridged, unedited 57-volume sermon series stenographically recorded by his peerless and untiring private secretary, Mr. J. W. Harrald, but it also includes the six volumes of the New Park Street Pulpit. In total, this 63 volume set contains 3563 complete sermons, enough to preach one sermon a week for over 68 years.
In addition, we have created topical indexes to all the sermons, so that you can search also by topic. The vast sermon illustrations are also indexed by topic for easy access.
About the Author
Few people in history can be known by one name and have it ring true with their audience, and Charles Haddon Spurgeon is one of them. Over time, Spurgeon has become known and revered as the "Prince of Preachers". In the last 200 years he has been one of the most influential men for not only Preachers of the Gospel but for those who have not had the opportunity to hear and receive the Gospel message. He wrote tirelessly over his life, and Wordsearch Bible Software is committed to bring as many of Spurgeon's works as possible to you in electronic form.
The details of Charles Haddon Spurgeon's life still continue to amaze one and all. He was born in Kelvedon, Essex, England, on June 19, 1834. He accepted Christ in 1850 at the age of 15. By age 16, he preached his first sermon in 1851, and by age 20, Spurgeon had already preached over 600 sermons. In 1854, Spurgeon was asked to become pastor of the New Park Street Chapel, one of the sixth largest Baptist Churches in London.
The 1200 seat Chapel had previously been pastored by Dr. John Gill among others, and it carried a rich heritage with it. Although the Church was located in the midst of a filthy industrial district which was hard to reach, by 1855, it was obvious that the Church must start meeting at the Exter Hall while the Church building was expanded. When the expansion was completed, it still was too small and the congregation was forced to start meeting at the Surey Music Hall. By 1856, over 10,000 people would crowd the hall just to get a chance to hear Spurgeon preach a sermon.
To accommodate the growing number of people, the church voted to build a new sanctuary and to change the name of the Church to the Metropolitan Tabernacle. On March 31, 1861, the first service was held in the sanctuary, with a capacity of 5,600 was the largest non-conformist church in the world.
When Spurgeon came to New Park Street in 1854 it had a membership of just 232 members. By the end of 1891, 14,460 souls had been baptized and added to the church with a standing membership of 5311. Spurgeon ministered there for over 30 years. It is estimated that over his lifetime he preached to over 10,000,000 people.
Endorsements
I have turned to Charles Spurgeon in these days for help, and I have not been disappointed. My purpose in this article is to show how Spurgeon's life and ministry can encourage pastors to keep on preaching through adversity.
I've always loved Charles Spurgeon for his plain-spokenness, his courage, his enthusiasm for the Word of God, his love for the truth, his command of the English language, and his ability to use simple, vivid language to make difficult truths inescapably clear.
Never have I read anywhere or in any literature anything that compares to the sermons of C. H. Spurgeon
Constitute a complete body of systematic theology.
I have read everything by Spurgeon I can get my hands on!
Translated as Mr. Spurgeon Sermons have been into nearly all of the languages of the world. Their popularity at home is a fact that admits no dispute, and needs no enforcement. The language is as homely, as pungent, and as felicitous in its appeal to the understanding of the people as ever it was. The subjects of many texts are handled by him in a manner that shows his complete mastery of the highest rhetorical art of exposition.
Charles Haddon Spurgeon, whose name is a household word the world over, is the most remarkable minister of Christ now living
Mr. Spurgeon was absolutely destitute of intellectual benevolence. If men saw as he did they were orthodox; if they saw things in some other way they were heterodox, pestilent and unfit to lead the minds of students or inquirers. Mr. Spurgeon's was a superlative egotism; not the shilly-shallying, timid, half-disguised egotism that cuts off its own head, but the full-grown, over-powering, sublime egotism that takes the chief seat as if by right. The only colors which Mr. Spurgeon recognized were black and white.
There was no one who could preach like my father. In inexhaustible variety, witty wisdom, vigorous proclamation, loving entreaty, and lucid teaching, with a multitude of other qualities, he must, at least in my opinion, ever be regarded as the prince of preachers.
One day I heard a friend say, "I write my sermons, then I read Spurgeon to see how he dealt with the text." The Prince of Preachers is still head of the class.