Find this product on Logos.com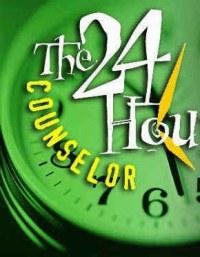 Highlights
Features 24 counseling sessions
Great for anyone who works with teenagers
Product Details
Compiled by Richard Ross, developer of the True Love Waits campaign, the The 24 Hour Counselor features role-playing counseling sessions on 24 relevant issues that teenagers face today. Each session is scripted by an experienced licensed counselor. The 24 topics include:
I No Longer Want To Live
I Was Raped on a Date
My Friend May Commit Suicide
I Feel Terribly Lonely
I Hate How I Look
I May Have an Eating Disorder
I Might Stop Drinking and Drugging
I Might Stop Smoking
I Might Join a Gang
I'm Afraid I May Have AIDS
I Can't Relate to My Stepparent
I Can't Relate to My Single Parent
I Get Depressed Often
I'm Thinking About Killing Some People
I'm Tempted to Go Too Far on a Date
I/My Girlfriend May Be Pregnant
I've Been Sexually Abused
Being Adopted Bothers Me
My Parents Drink Too Much
My Parents are Divorcing
Someone Close to Me Has Died
I Feel Really Guilty
I'm Failing at School
My Parents Don't Trust Me
About the Editor
Richard Ross earned his B.A., Hardin-Simmons University, 1972; M.R.E., SWBTS, 1974 and Ph.D., SWBTS, 1980. Ross is the spokesperson for the True Love Waits Campaign from 1993-Present. He was a Youth Ministry Consultant for Lifeway Christian Resources, Nashville, Tennessee from 1984-2000. Ross is the author/compiler of over 20 books on youth ministry and Co-author of 30 Days: Turning the Hearts of Parents and Teenagers Toward Each Other and Parenting with Kingdom Purpose. He is currently the Professor of Student Ministry, Assistant Dean, Division of Human Growth and Development, and J.M. Price Chair of Religious Education at Southwestern Baptist Theological Seminary.