Find this product on Logos.com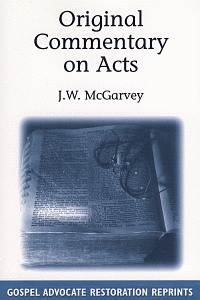 Commentary on Acts of the Apostles
Highlights
Detailed commentary on the Book of Acts
First published in 1863, but still used today in Bible Colleges and Seminaries
From the American Restoration movement era
Product Details
Commentary on Acts of the Apostles by John William McGarvey is one of the most detailed accounts of the Book of Acts available. This classic exposition was originally published in 1863 and continues to be published today.
About the Author
John William McGarvey was born in Hopkinsville, Kentucky in 1829. McGarvey was four years old when his father died. At the age of ten his mother re-married and they became a blended family of nineteen. In 1839 the family moved to Tremont, Illinois.
In 1847, at age 18, he entered Bethany College, and graduated with honors in the year 1850. His education was secular and not intended for the ministry. While at Bethany he confessed faith in Christ, and was baptized in a creek. Immediately upon his conversion, his mind turned toward the ministry. Soon after leaving college he moved to Fayette, Missouri and opened a school for boys. He continued his personal studies in both Latin and Greek.
At the age of twenty three he was ordained as a minister and preached in country churches in Fayette, Ashland and Mt. Pleasant. In 1853, he moved to Dover and resided there for nine years, dividing his time between his home church and preaching extensively all over the State of Missouri. He also held five religious discussions with representatives of various religious parties during this period, and collected money to erect a boarding school in his village, which he conducted for two years.
In the spring of 1862 at age 33, he took the position of minister of Main St. Church in Lexington, Kentucky. During the same year he published his "Commentary on Acts," which had been in the course of preparation for more than three years. In 1865 McGarvey was invited to become the professor of Sacred History in the College of the Bible at Kentucky University in Lexington. In order to better qualify himself for his college work, he made a tour of Palestine and in published the result of his observations in his book the Lands of the Bible. In 1866, he resigned his place in the Main St. Church to give his whole time to the work at the University. In 1869 the growth of the Main St. Church required the organization of a second one, the Broadway Christian Church, McGarvey was called to serve that congregation, which he did for eleven years.
In 1875 McGarvey began teaching again at the College of the Bible. In 1878 he headed the College of the Bible as president for the next 16 years. In 1909 at his 80th birthday celebration a large print, leather bible was presented to him in the chapel from the faculty and students of the College of Bible. McGarvey passed away in the fall of 1911.