Find this product on Logos.com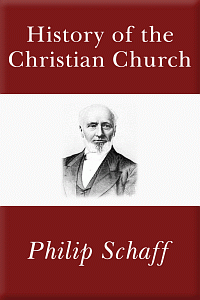 History of the Christian Church
Highlights
Chronicles the History of the Christian Church from the time of Jesus through 1648
The standard for exploring and researching church history
A must have for any reference library
Product Details
History of the Christian Church - chronicles the history of Apostolic Christianity A.D. 1-100, through the Ante-Nicene, Nicene, and Post-Nicene and through the history of the reformation. For over 100 years, many serious students of the Bible consider this work to be the standard for exploring and researching church history.
About the Author
Philip Schaff (1819 –1893), was born in Chur, Switzerland, and was educated at the gymnasium of Stuttgart, and at the universities of Tübingen, Halle and Berlin. He then traveled through Italy and Sicily as tutor to Baron Krischer. In 1842 he was Privatdozent in the University of Berlin, and in 1843 he was called to Mercersburg, Pennsylvania, to teach church history and biblical literature, he was ordained as a minister of the Reformed Church in April 1844 and in July of that year arrived in the United States. For nineteen years he taught at Mercersburg Academy where he helped to develop the Mercersburg Theology, with its emphasis on the church and the sacraments. In 1863 he moved to New York City, where he became secretary of the New York Sabbath Committee, an organization opposed to the secularization of Sunday. In 1870 he joined the faculty of Union Theological Seminary in New York City, where he served until his death. His ecumenical interests were shown in his strong support of the Evangelical Alliance, of which he was the American secretary, and of the Alliance of Reformed Churches.
Schaff also wrote biographies, catechisms and hymnals for children, manuals of religious verse, lectures and essays on Dante. Schaff's contribution to the Christian community on historical works is unparalleled; here are just a few of his famous works: Creeds of Christendom, The Christ of the Gospels, Christ and Christianity. He was also a contributing editor to the New Schaff-Herzog Encyclopedia of Religious Knowledge and the American Standard Version 1901, which was a revision of the English Revised Version.
Endorsements
A brilliant, detailed account of the history of Christianity up to and including the continental Reformation. Well written and easy to read. One of the most informative and valuable treatments available.