Find this product on Logos.com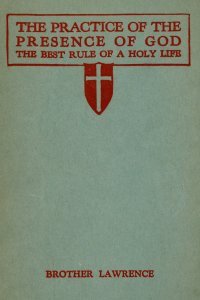 The Practice of the Presence of God
The Best Rule of a Holy Life
Highlights
Discover the Lord in a deeper, meaningful way
Written in a conversational style
Product Details
The Practice of the Presence of God was written over 300 years ago in a French monastery, by Brother Lawrence of the Resurrection, who as a humble servant during his daily chores "practiced the presence of God." By putting God first and recognizing his sinful nature and turning that over to God, Brother Lawrence was able to live each day knowing he was in the presence of God.
About the Author
Brother Lawrence was born in 1614 as Nicholas Herman in Hériménil, near Lunéville in the region of Lorraine, located in modern day eastern France. As a young man, Herman's poverty forced him into joining the army, which guaranteed him meals and a small stipend. During this period, Herman claimed an experience that set him on a unique spiritual journey. He considered it a supernatural clarity into a common sight, more so than as a supernatural vision.
During the winter, Herman looked at a barren tree, stripped of leaves and fruit, and realized it awaited the sure hope of a springtime revival and summer abundance. Gazing at the tree, Herman grasped deeply the extravagance of God's grace and the unfailing sovereignty of divine providence. Like the tree, he felt seemingly dead, but held hope that God had life waiting for him, and the turn of seasons would bring fullness. At that moment, he said, that leafless tree "first flashed in upon my soul the fact of God," and a love for God that never ceased. Shortly after, an injury forced his retirement from the army.
Having felt he had received a revelation of the providence and power of God he joined the Discalced Carmelite Priory in Paris. Nicholas entered the priory in Paris as a lay brother, not having the education necessary to become a cleric, and took the religious name, "Lawrence of the Resurrection". He spent almost all of the rest of his life within the walls of the priory, working in the kitchen for most of his life and as a repairer of sandals in his later years.
Despite his lowly position in life and the priory, his character attracted many to him. He had a reputation for experiencing profound peace and visitors came to seek spiritual guidance from him. The wisdom he passed on to them, in conversations and in letters, would later become the basis for the book, The Practice of the Presence of God. Father Joseph de Beaufort, later vicar general to the Archbishop of Paris, compiled this work after Brother Lawrence died. It became popular among Catholics and Protestants alike, with John Wesley and A. W. Tozer recommending it to others.
His death in 1691 occurred in relative obscurity, but his teachings live on in the compilation of his words.
Endorsements
The classic book on learning how to develop constant conversation with God