Find this product on Logos.com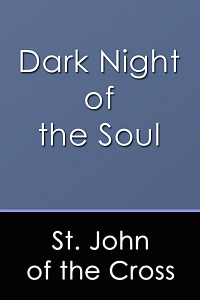 Highlights
A masterpiece in the literature of mysticism
There has never been a better book for discouraged Christians
Helps develop a true appreciation for genuine faith
Product Details
About the Author
St. John of the Cross was born by the name of Juan de Yepes Alvarez in Fontiveros, Spain, in 1542. He worked at a hospital in Medina del Campo and studied the humanities at a Jesuit College from 1559 to 1563. In 1563 he entered the Carmelite order, adopting the name Fr. Juan de Santo Matía.
The following year he professed as a Carmelite and moved to Salamanca, where he studied theology and philosophy at the University and at the Colegio de San Andrés. Fray Luis de León taught biblical studies, Exegesis, Hebrew and Aramaic at the University. León was one of the foremost experts in Biblical Studies.
Saint John was ordained a priest in 1567, and then indicated his intent to join the strict Carthusian order. Before this, however, he traveled to Medina del Campo, where he met Saint Teresa de Jesús. She immediately talked to him about her reformation projects for the Carmelite order, and asked him to delay his entry into the Carthusians. The following year, in November, he started this reformation at Duruelo together with Fr. Antonio de Jesús de Heredia, and the originally small and impoverished town of Duruelo became a center of religion.
John, still in his 20s, continued to work as a helper of Saint Teresa until 1577, founding monasteries around Spain and taking active part in their government. These foundations and the reformation process were resisted by a great number of Carmelite friars, some of whom felt that Teresa's version of the order was too strict. Some of these opponents would even try to bar Teresa from entering their convents. The followers of St. John and St. Teresa differentiated themselves from the non-reformed communities by calling themselves the "discalced", i.e., barefoot, and the others the "calced" Carmelites.
On the night of December 2, 1577, following his refusal to relocate after his superior's orders and allegedly because of his attempts to reform life within the Carmelite order, he was taken prisoner by his superiors, and jailed in Toledo. He managed to escape nine months later, in 1578, through a small window in a room adjoining his cell. In the meantime, he had composed a great part of his most famous poem Spiritual Canticle during this imprisonment; his harsh sufferings and spiritual endeavors are then reflected in all of his subsequent writings.
Upon his escape he returned to the Convent of the Carmelite nuns in Toledo. He attends a meeting of the Discalced superiors at Almodovar and is sent to El Calvario as Vicar. In 1579 John founds a college of the Reform of Baeza and resides there as Rector until 1582.
Saint John of the Cross was a major figure of the Catholic Reformation, a Spanish mystic, and Carmelite friar and priest. He was a reformer of the Carmelite Order and is considered, along with Saint Teresa of Ávila, as a founder of the Discalced Carmelites. He is also known for his writings. Both his poetry and his studies on the growth of the soul are considered the summit of mystical Spanish literature and one of the peaks of all Spanish literature. He died on December 14, 1591, of cellulitis. His writings were first published in 1618, and he was canonized by Benedict XIII in 1726. In 1926, he was declared a Doctor of the Church by Pope Pius XI. When his feast day was inserted into the General Roman Calendar in 1738, it was assigned at first to 24 November, since his date of death was impeded by the then existing octave of the Feast of the Immaculate Conception. This obstacle was removed in 1955 and in 1969 his feast day was moved to his date of death, 14 December.
Endorsements
When we study his treatises—principally that great composite work known as The Ascent of Mount Carmel and Dark Night of the Soul—we have the impression of a mastermind that has scaled the heights of mystical science; and from their summit looks down upon and dominates the plain below and the paths leading upward. . . . Nowhere else, again, is he quite so appealingly human; for, though he is human even in his loftiest and sublimest passages, his intermingling of philosophy with mystical theology; makes him seem particularly so. These treatises are a wonderful illustration of the theological truth that graced far from destroying nature, ennobles and dignifies it, and of the agreement always found between the natural and the supernatural--between the principles of sound reason and the sublimest manifestations of Divine grace.