Find this product on Logos.com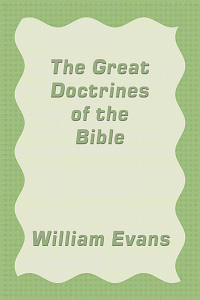 The Great Doctrines of the Bible
Highlights
A well-organized examination of ten major doctrines
Still used by many seminaries and pastors
Originally published in 1912
Thorough and well presented
Product Details
Great Doctrines of the Bible teaches on the Doctrine of God, Jesus Christ, the Holy Spirit, Man, Salvation, the Church, the Scriptures, Angels, Satan, and Last Things. Dr. William Evans, noted American Bible teacher, committed these lectures on Bible doctrine to print in 1912, making available to a wider audience the wealth of his insights into Scriptural teaching. This classic work is still quoted and used by many preachers, pastors and seminary students alike.
About the Author
William Evans, Ph.D., D.D. (1870-1950) is best remembered as a noted American Bible teacher. Evans wrote over forty volumes on biblical interpretation and spent several years directing Bible conferences throughout Canada and the United States. Prior to being appointed the director of the Department of Bible at Moody Bible Institute, Evans was the pastor of various churches. In 1913 Evans also served as the associate dean of the Bible Institute in Los Angeles, California.
Endorsements
A handy manual for basic Bible doctrine. Ideal for Lay people's discussion groups.