Find this product on Logos.com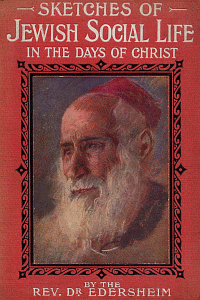 Sketches of Jewish Social Life
In the Days of Christ
Highlights
Brings to life the cultural world of Jesus and the Apostles
Includes citations to the works of Philo and Josephus, rabbinic sources and to the Bible itself
Product Details
This classic work on the aspects of the cultural and social world of Jesus and his Apostles continues to be invaluable for students of the Bible. With Edersheim's unparalleled intimate detail of Jewish social life, anyone can better appreciate the context, as well as the people, places and events of the New Testament.
About the Author
Alfred Edersheim (1825-1889) was born in Vienna, Austria to Jewish parents, and was brought up in the Talmudic traditions and customs of the Jewish faith. He was converted to Christianity in Budapest through the ministry of a Scottish missionary, John Duncan. When Duncan was appointed professor of Hebrew in New College, Edinburgh, Scotland, in 1843, Edersheim accompanied him and enrolled as a student.
After studying at the University of Berlin, Edersheim became a minister—first Presbyterian, later Church of England. He served from 1846 to 1849 as a missionary to Jews in Romania. From 1849 to 1882 he was pastor of several churches in Great Britain.
Edersheim's unique position as a scholar trained in both the Jewish and the Christian traditions including all the Biblical languages and his extensive knowledge and understanding of the culture and religious beliefs in early first century Roman-ruled Judea made him quite an authority on all things Biblical.
Some of Alfred Edersheim's most widely read works are: The Life and Times of Jesus the Messiah, Bible History Old Testament and The Temple: Its Ministry and Services.
Endorsements
First published in 1883, this work is still one of the most important treatments of daily life in Palestine in the first century