Find this product on Logos.com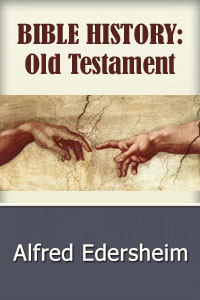 Bible History: Old Testament
Highlights
Illuminates 'the big picture' of God's story in the Old Testament
Written from a Jewish Christian perspective
Named as one of the 850 Books for Biblical Expositors by the Master's Seminary
Product Details
Since its original seven volume appearance in 1890, Bible History: Old Testament has encountered many rivals but no successors, and its relevance for the Christian faith has only been reinforced during the intervening decades. In this enduring classic, Alfred Edersheim explores the broad sweep of Old Testament history. He brings to his work his immense learning and familiarity with Judaism, as well as his love for Scripture and his desire for every Christian to know and understand the story of God's redemptive work in history.
The World before the Flood and the History of the Patriarchs
The Exodus and the Wanderings in the Wilderness
Israel in Canaan under Joshua and the Judges
Israel under Samuel, Saul, and David, to the Birth of Solomon
History of Judah and Israel from the Birth of Solomon to the Reign of Ahab
The History of Israel and Judah from the Reign of Ahab to the Decline of the Two Kingdoms
The History of Israel and Judah from the Decline of the Two Kingdoms to the Assyrian and Babylonian Captivity
About the Author
Alfred Edersheim (1825-1889) was born in Vienna, Austria to Jewish parents, and was brought up in the Talmudic traditions and customs of the Jewish faith. He was converted to Christianity in Budapest through the ministry of a Scottish missionary, John Duncan. When Duncan was appointed professor of Hebrew in New College, Edinburgh, Scotland, in 1843, Edersheim accompanied him and enrolled as a student.
After studying at the University of Berlin, Edersheim became a minister—first Presbyterian, later Church of England. He served from 1846 to 1849 as a missionary to Jews in Romania. From 1849 to 1882 he was pastor of several churches in Great Britain.
Edersheim's unique position as a scholar trained in both the Jewish and the Christian traditions including all the Biblical languages and his extensive knowledge and understanding of the culture and religious beliefs in early first century Roman-ruled Judea made him quite an authority on all things Biblical.
Some of Alfred Edersheim's most widely read works are: The Life and Times of Jesus the Messiah, Sketches of Jewish Social Life and The Temple: Its Ministry and Services.
Endorsements
This is one of the most popular of Edersheim's writings and probably the most valuable in terms of its usefulness to preachers, Sunday School teachers and general readers.