Find this product on Logos.com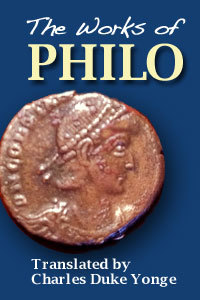 Highlights
A contemporary of Josephus
One of the most important writers regarding Hellenistic Judaism and early
Christianity
Translated from the Greek into English by Charles Duke Yonge
Product Details
A contemporary of both Jesus and Paul, Philo Judaeus of Alexandria wrote extensively on the Hebrew Tanakh and other Jewish topics, and developed concepts for future Hellenistic interpretation of messianic Hebrew thought. Philo's writings heavily influenced other writers of early Christian thought like Clement of Alexandria, Athenagoras, Theophilus, Justin Martyr, Tertullian, and by Origen.
This edition of Philo's Works were translated by Charles Duke Yonge into English from the Greek in 1854-55.
About the Author:
Philo (20 BCE - 50 CE), known also as Philo of Alexandria (gr. Φίλων ὁ Ἀλεξανδρεύς), Philo Judaeus, Philo Judaeus of Alexandria, Yedidia and Philo the Jew, was a Hellenistic Jewish philosopher born in Alexandria.
Philo used allegory to fuse and harmonize Greek philosophy and Judaism. His method followed the practices of both Jewish exegesis and Stoic philosophy. Philo's works were enthusiastically received by the Early Christians, some of whom saw in him a cryptic Christian. His concept of the Logos as God's creative principle influenced early Christology.
Philo was probably born with the name Julius Philo. Philo came from an aristocratic family who lived in Alexandria for generations. His ancestors and family were contemporaries to the rule of the Ptolemaic dynasty and the rule of the Seleucid Empire. Although the names of his parents are unknown, Philo came from a family who were noble, honourable and wealthy. It was either his father or paternal grandfather who was granted Roman citizenship from Roman dictator Gaius Julius Caesar. His ancestors and family had social ties and connections to the Priesthood in Judea; Hasmonean Dynasty; Herodian Dynasty and Julio-Claudian dynasty in Rome. Philo was a contemporary to the life of Jesus of Nazareth and the lives of The Apostles of Jesus. Philo along with his brothers received a thorough education. They were educated in the Egyptian, Jewish, Greek and Roman cultures, particularly in the traditions of Judaism, the study of the Old Testament and in Greek Philosophy.
Endorsements
Philo has long been regarded as an important source to consult in the study of the Scriptures. He is well known for his allogorical interpretation, but in spite of this, he provides numerous interesting sidelights on the biblical narrative.