Find this product on Logos.com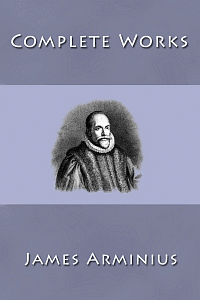 Complete Works of James Arminius
Highlights
This work is the definitive counter argument to Calvinism
Father of the Arminian-Wesleyan tradition
Arminianism focuses on free-will, salvation for all, and resistible grace
Product Details
In his Works, James Arminius, discusses his opposition to John Calvin's teaching of the predestination of those whom God elects for salvation. Calvin stressed that God had foreknowledge of all those who would later have faith in Jesus Christ for eternal life, and all those who reject Him for eternal separation from God. Arminius, on the other hand, emphasized that God has given human beings free will, true freedom to either accept or reject salvation.
About the Author
James (Jacobus) Arminius born at Oudewater, Utrecht, became an orphan while still in infancy. A priest, Theodorus Aemilius, adopted Jacobus and sent him to school at Utrecht. In 1575 the kindness of friends enabled Arminius to study theology at the University of Leiden. Arminius studied at Leiden from 1576 to 1582. His teachers in theology included Johann Kolmann. Kolmann believed and taught that high Calvinism made God both a tyrant and an executioner. Arminius studied with success and had seeds planted that would begin to develop into a theology that would later compete with the dominant Reformed theology of John Calvin.
Arminius began studying under Theodore Beza at Geneva in 1582. He answered a call to pastor at Amsterdam and became ordained in 1588. He gained a reputation as a good preacher and faithful pastor. Arminius returned to Leiden in 1603 and served as professor in theology at the University and remained there until his death in 1609.
Arminius became best known as the founder of the anti-Calvinistic school in Protestant theology, and thereby lends his name to a movement — Arminianism — which resisted some of the tenets of Calvinism. The early Dutch followers of Arminius' teaching became known as Remonstrants. The theology of Arminianism did not become fully developed during Arminius' lifetime, but after his death the Five articles of the Remonstrants (1610), a document containing five points of disagreement with classic Calvinism, was written. But the Synod of Dort (1618–1619), convening for the purpose of condemning Arminius' theology, declared it and its adherents anathemas, and expelled Arminian pastors from the Netherlands.
Publishers in Leiden (1629) and at Frankfort (1631 and 1635) issued the works of Arminius in Latin. The Complete Works of James Arminius was then later translated into English by James Nichols, and William R. Bagnall.