Find this product on Logos.com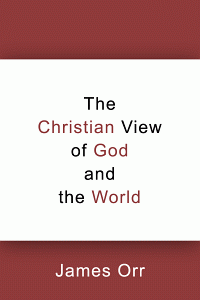 The Christian View of God and the World
Highlights
From the Kerr Lecture series
Product Details
Originally published in 1893, James Orr summarizes nine specific areas, stating that his view confirms:
The existence of a personal, ethical, and self-revealing God;
The creation of the world by God, involving His holy and wise government of it for moral ends;
The spiritual nature and dignity of man as created in the image of God;
The fall of man into sin;
The historical self-revelation of God to the patriarchs and in the line of Israel;
The incarnation of Jesus Christ as the eternal son of God, yes, as God manifest in flesh;
The redemption of the world through the atoning death, burial, and resurrection of Jesus Christ;
The founding of the kingdom of God on earth, which includes the spiritual salvation of individuals (the result of the actions of the spiritual forces set in motion through Christ);
The fact that history has a goal, including resurrection, judgment and separation of the righteous and the wicked, the righteous to eternity with God and the wicked to eternal suffering excluded from His presence
About the Author
James Orr was born in 1844 at Glasgow and spent his childhood in Manchester and Leeds. He was orphaned and became an apprentice bookbinder, but went on to enter Glasgow University in 1865. In 1870, he obtained an M.A. in Philosophy of Mind, and after graduating from the theological college of the Presbyterian Church, he was ordained a minister in Hawick. In 1885 he received a D.D. from Glasgow University, and in the early 1890s delivered a series of lectures that later became the influential
The Christian View of God and the World
. He was appointed professor of Church history in 1891 at the theological college of the United Presbyterian Church. He was one of the primary promoters of the union of the United Presbyterian Church with the Free Church of Scotland, and he represented the United Presbyterians in the unification talks. After they joined in 1900, he moved to Free Church College (now Trinity College), as professor of apologetics and theology. He lectured widely in both Britain and the United States.
Orr was a vocal critic of theological liberalism and helped establish Christian Fundamentalism. His lectures and writings upheld the doctrines of the virgin birth and resurrection of Jesus, and the infallibility of the bible. Orr did not agree with teachings of biblical inerrancy. He advocated a position which he called "theistic evolution", but which would today be called progressive creationism. Orr was the editor of the International Standard Bible Encyclopedia. He passed away in 1913.
Endorsements
In spite of its age, this work is still relevant and useful