Find this product on Logos.com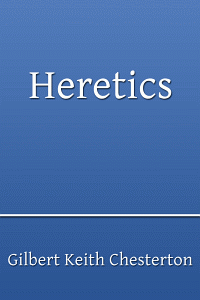 Highlights
Very simple, yet powerful apologetic tool
Companion to Orthodoxy
Product Details
In Heretics, Chesterton offers a critique of some of the prominent philosophies and philosophers of his time. In this writing he offers a response to their doctrinal teachings. Among some of the philosophers are Frederick Nietzsche, H. G. Wells, and G. Bernard Shaw. Heretics takes readers back to the "fundamentals" and describes some of a Christian's core beliefs and captures the essence of the Christian experience.
About the Author
Gilbert Keith Chesterton was born in Campden Hill in Kensington, London, Chesterton and was educated at St Paul's School. He attended the Slade School of Art in order to become an illustrator and also took literature classes at University College London but did not complete a degree at either. In 1896 Chesterton began working for the London publisher Redway, and T. Fisher Unwin, where he remained until 1902. During this period he also undertook his first journalistic work as a freelance art and literary critic. In 1902 he was given a weekly opinion column in the Daily News, followed in 1905 by a weekly column in The Illustrated London News, for which he would continue to write for the next thirty years.
In 1916 he took over the editorship of The New Witness, a weekly journal begun by his brother Cecil. Chesterton continued the paper, eventually changing the name to G.K.'s Weekly, until his own death. He also helped found, along with his fellow writer and friend, Hilaire Belloc, the Distributist movement. This broad economic program addressed Chesterton's belief that neither capitalism nor socialism were viable forms of economic theory in practice, as each resulted in the concentration of the vast majority of wealth in the hands of a few elites.
Chesterton converted to Roman Catholicism in 1922. Chesterton wrote around 80 books, several hundred poems, some 200 short stories, 4000 essays, and several plays. He was a literary and social critic, historian, playwright, novelist, Catholic theologian and apologist, debater, and mystery writer. Chesterton died on 14 June 1936, at his home in Beaconsfield, Buckinghamshire. He is buried in Beaconsfield in the Catholic Cemetery.