Find this product on Logos.com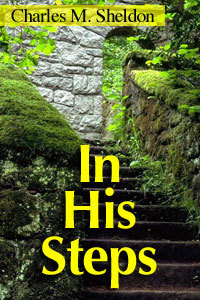 Highlights
The original thought behind "What Would Jesus Do?" items in 1990
Product Details
In His Steps was originally written in 1896, by Charles Monroe Sheldon. This novel details how a minister and five influential Church members begin a year-long examination of truly doing what Jesus would do in everything they do. The whole town is effected by their mission and many lives are changed.
About the Author
Charles Monroe Sheldon, (1857-1946), was educated at Brown University and Andover Theological Seminary. He became an advocate of the late nineteenth century school of thought known as Christian Socialism. His theological outlook focused on the practicalities of the moral life, with much less emphasis on the doctrinal traditions of personal redemption from sin in Christ. In the winter of 1896 Sheldon developed a sermon story that he read as a weekly series from the pulpit of Central Congregational Church in Topeka, Kansas. The unifying theme of these sermons was based on posing the question, "what would Jesus do?" when facing moral decisions. He viewed this question as traditional within Christianity.
The theme of the sermons was later fictionalized into the novel In His Steps. The central ethos of the novel was not about personal redemption but about moral choices related to encountering circumstances of poverty and deprivation. Sheldon's theological motif reflected his socialist outlook, and it helped to inspire the theologian Walter Rauschenbusch who is generally credited with creating the Social Gospel. However, Rauschenbusch acknowledged that Sheldon was the source of his ideas. Sheldon's own parish work became identified with the Social Gospel, an expression of early Liberal Christianity.
In March 1900 he became editor for a week of the Topeka Daily Capital applying the "What Would Jesus Do?" concept. In that short time, the newspaper's circulation exploded from just under 12,000 to 387,000, overwhelming the paper's Topeka printing plant causing it to print 120,000 copies each in Chicago, Illinois and New York City.
Charles Monroe Sheldon is buried at Mount Hope Cemetery in Topeka, Kansas.