Find this product on Logos.com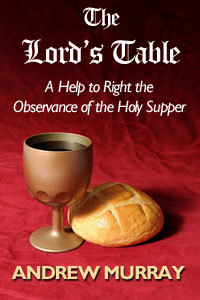 The Lord's Table
A Help to the Right Observance of the Holy Supper
Highlights
Discusses all the aspects leading up to and the celebration of the Holy Supper
Product Details
The Lord's Table, offers a step by step look at the celebration of the Lord's Supper. Andrew Murray gives a fourteen day guide to experiencing the full meaning of the Lord's Supper. He also goes into full detail about preparing ourselves for the celebration of the Lord's Supper and even discusses the penalties for partaking of the Lord's Supper without being in the proper state of mind.
About the Author
Andrew Murray Jr. was born in Cape Town, South Africa in 1828. He was the second child of Andrew Murray Sr., a Scottish Presbyterian serving the Dutch Reformed Church of South Africa as a missionary. Andrew was sent to Aberdeen in Scotland for his initial education together with his elder brother, John. Both remained there until they obtained their M.A in 1845. From there they both went to the University of Utrecht in the Netherlands where they studied theology. Both brothers were ordained by the Hague Committee of the Dutch Reformed Church on May 9, 1848 and returned to the Cape.
Andrew pastored churches in Bloemfontein, Worcester, Cape Town and Wellington, all in South Africa. He was an amazingly prolific Christian author. All of his publications were originally written in Dutch and then translated into English. As his popularity grew, Murray's books found their way into more than twelve foreign languages during his lifetime alone. Murray is best known for his devotional writings, which place great emphasis on the need for a rich, personal devotional life. Several of his books have become classics they include: Abide in Christ, Absolute Surrender and Waiting on God.
He helped to found what are now the University College of the Orange Free State and the Stellenbosch Seminary. He served as moderator of the Cape Synod of the Dutch Reformed Church and was president of both the YMCA and the South African General Mission, now the Africa Evangelical Fellowship.
Murray was an alert and intense man, he died on January 18, 1917, four months before his eighty-ninth birthday. For his contribution to world missions he was given an honorary doctorate by the universities of Aberdeen and Cape of Good Hope.
Endorsements
Designed to prepare the hearts and minds of communicants for effective, meaningful participation in the Lord's Supper.