Find this product on Logos.com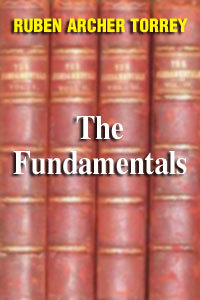 Highlights
Embodies both a survey and a defense of classic Christian ideas
Features articles from B.B. Warfield, James Orr, H.A. Ironside, C.I. Scofield, James M. Gray, and Bishop J.C. Ryle.
Outlines five basic doctrines of the faith
Product Details
The Fundamentals combines over 100 articles in an authoritative defense against Liberalism of the Faith. Originally issued as a twelve volume set, over 300,000 copies of this work were originally distributed to missionaries, ministers and Christian works throughout the world.
These articles blend a "common-sense" doctrinal approach with personal application built upon the foundation of the inspired and inerrant Scriptures. "The Fundamentals" defends the deity of Christ, the inerrant Word of God, the bodily resurrection of Christ and many other foundational truths. These statements also apply biblical Christianity to the wider problems of life and culture by focusing on the essentials and de-emphasizing the non-essentials. The term "Fundamentalism" actually comes from this classic of Christian literature.
About the Editor
Ruben Archer Torrey was born in Hoboken, New Jersey in 1856. Torrey graduated from Yale University and Yale Divinity School and studied at the universities of Leipsic and Erlangen. He was pastor of the Congregational Church, Garretsville (1878-82); Open Door Church, Minneapolis (1883-86); superintendent of the Minneapolis City Missionary Society (1886-89); pastor of People's Church, Minneapolis (1887-89); superintendent of Chicago Evangelization Society and Moody Bible Institute (1889-1908), having meanwhile been pastor of the Chicago Avenue Church, Chicago (1894-1905).
In December of 1901, he engaged in evangelistic work, this involved a remarkable series of overseas tours, including meetings in Australia, New Zealand, India, China, Japan, Germany, Great Britain, Canada, and at home. Torrey consented in 1912 to head the newly formed Bible Institute of Los Angeles (Biola). Torrey stayed at Biola until 1924. Despite his various demanding duties, Torrey produced a large number of written works. Torrey was one of the compilers of The Fundamentals, for which he wrote many famous articles expounding conservative Protestantism (published from 1910 to 1915). In his later years, Torrey returned to Moody Bible Institute as a lecturer from 1924 until his death in 1928. Torrey carried out several crucial roles and wide-reaching ministries that had few parallels among American leaders of conservative Protestantism in the early twentieth century.
Some of his better known published works are: How to Bring Men to Christ, (His first book, published in 1893) Treasury of Scripture Knowledge, New Topical Textbook also known as A Scripture Textbook for the use of Ministers, Teachers, and all Christian Workers, How to Promote and Conduct a Successful Revival, The Fundamentals, (Editor), and many others.