Find this product on Logos.com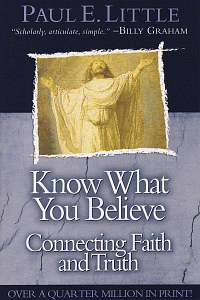 Know What You Believe
Connecting Faith and Truth
Highlights
What does the Bible teach about God, Jesus, and the Holy Spirit?
What do angels, Satan, and demons have to do with reality?
What place should the Bible or a church have in my life?
Product Details
Perhaps you think you know what others are telling you to believe, but deep down inside you wonder, "What is really important to my own faith?" If so, you need to know... a Christian's faith must be grounded in truth!
Know What You Believe has helped countless new believers and longtime Christians better understand the basic truths of their Christian faith. The book clearly explains what the book teaches about:
God
Jesus Christ
Christ's Death and Resurrection
The Holy Spirit
Angels, Satan, and Demons
Man and Sin
Salvation
The Bible
The Church
Coming Events
About the Author
Paul E. Little and his wife, Marie, worked for twenty-five years with InterVarsity Christian Fellowship until his death in 1975. Little was also associate professor of evangelism at Trinity Evangelical Divinity School in Deerfield, Illinois. He was the author of several books and articles, including Know Why You Believe, Affirming the Will of God and How to Give Away Your Faith.
Endorsements
I have deeply admired [Paul Little} as a man of God with Extraordinary insights into the work of God and boundless enthusiasm for communicating the Word of God
There are just a few timeless treasures in Christian literature. Know What You Believe is one of them. I am confident that the expanded and updated version of this book will be as important to this generation as it was in the days when I was a student.
This updated classic stands ready to serve a whole new generation. Read it and let Paul help you understand the timeless biblical truths that will prevent you from being 'blown here and there by every wind of teaching.