Find this product on Logos.com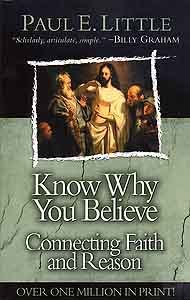 Know Why You Believe
Connecting Faith and Reason
Highlights
Over a million in print
A must-have classic for any critical thinker's library
#26 Of The Top 50 Books That Have Shaped Evangelicals
Product Details
You're a reasonable person. And you know there are some tough questions that Christianity should be able to answer. Paul Little does just that, and in a way that Billy Graham lauds as "scholarly, articulate," and yet "simple."
Know Why You Believe has been revised and expanded to explore the central truths of Christianity in a more contemporary format, this companion bestseller examines the claims of the Christian faith. Discover for yourself what such great Christian minds as Bill Hybels, Josh McDowell and Ravi Zacharias have found to be a must-have classic for any critical thinker's library.
About the Author
Paul E. Little and his wife, Marie, worked for twenty-five years with InterVarsity Christian Fellowship until his death in 1975. Little was also associate professor of evangelism at Trinity Evangelical Divinity School in Deerfield, Illinois. He was the author of several books and articles, including Know Why You Believe, Affirming the Will of God and How to Give Away Your Faith.
Endorsements
I have deeply admired [Paul Little} as a man of God with Extraordinary insights into the work of God and boundless enthusiasm for communicating the Word of God