Find this product on Logos.com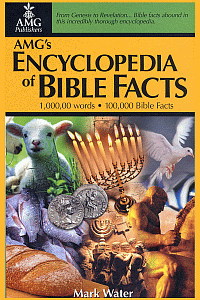 AMG's Encyclopedia of Bible Facts
Highlights
The ultimate one-volume Bible encyclopedia loaded with charts, information
Over 100,000 Bible facts
Extensive outline of each book
Section-by-section commentary
Product Details
AMG's Encyclopedia of Bible Facts is more than a trivia book, more than an introduction to the Bible, more than a dictionary and more than a world almanac of the Bible. It's everything you ever wanted to know about the Bible and then some.
It contains over 100,000 fun-filled, interesting Bible facts. The reader will learn how the Bible was written, view sample translations from dozens of different Bible versions, learn about the customs and manners of the day, and come to a fuller understanding of each book of the Old and New Testament.
Christianity is a historic religion based on countless verifiable facts. Whether you want to inquire about archaeological findings, New Testament manuscripts, culture, people, prophecies or many, many other areas, you will find what you need here. Even more AMG's Encyclopedia of Bible Facts directs you to the words of the Bible itself, with summaries of its teaching, its key words, its books, its individuals and events.
Encyclopedia of Bible Facts is divided into four sections for easy reference:
Facts About The Bible's Background - covering everything from archaeology to work.
Facts on the whole Bible - reviewing books, battles, events, places,people, teaching.
Facts from the Old Testament - covering everything from archaeology to work.
Facts from the New Testament - providing the analysis of authors, words, dates, languages, belief, and summaries of each book and key verses.
About the Author
Mark Water was born in Devon, England and trained for the Anglican ministry at the London College of Divinity. He was ordained as an evangelical minister in 1966. For the past 20 years he has been engaged in the ministry of Christian literature as writer, editor and advisor. He has authored many works in addition to the Encyclopedia of Bible Facts such as the Bible Made Easy series, the Encyclopedia of Christian Quotations, Key Word Commentary, the New Encyclopedia of Christian Martyrs, and many other books.