Find this product on Logos.com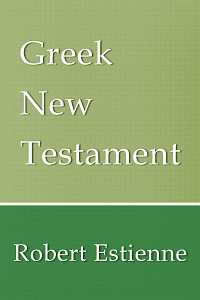 Greek New Testament - Stephanus 1550
Highlights
Based on Byzantine Greek Texts
Served as the basis for the translation of King James Version
Product Details
The Greek New Testament also known as the Textus Receptus or the Received Text was prepared by Desiderius Erasmus in 1527 and revised by Robert Estienne, also known as Robertus Stephanus, in 1550. It was the first edition ever published with critical apparatus of any sort. The Greek New Testament text was the basis of the translation of the King James Version and is derived from the best available Byzantine Greek texts, which comprises ninety-four percent of all known Greek manuscripts in existence.
About the Author
Robert Estienne (1503–1559) was a 16th century printer in Paris and the second son of a famous humanist printer, Henry Estienne. After his father's death he acted as assistant to his stepfather, and in this capacity superintended the printing of a Latin edition of the New Testament in 1523 . Some slight alterations which he had introduced into the text brought upon him the censures of the Faculty of Theology in Paris. It was the first of a long series of disputes between him and that body. It was also at this time Robert left Catholicism and joined the Reformed Church.
In 1526 he entered into possession of his father's printing establishment. In 1539 he adopted as his motto an olive branch around which a serpent was entwined, and a man standing under an olive-tree, with grafts from which wild branches were falling to the ground with the words of Romans 11:20, Noli altum sapere, sed time…"Be not high-minded, but fear."
In 1539 Robert was appointed the king's printer for Hebrew and Latin, and after the death of Conradus Conrad Neobar in 1540, he also became the king's printer for Greek. In 1541 he was entrusted by Francis I. with the task of procuring from Claude Garamond, the engraver and type-founder, three sets of Greek type for the royal press. The largest size type was used to print the The Greek New Testament in 1550 . This edition involved the printer in fresh disputes with the Faculty of Theology, and towards the end of the following year he left his native town for ever, and emigrated to Geneva. At Geneva Robert proved himself an ardent partisan of John Calvin and published several of his works. Robert died in Geneva on the 7th of September 1559.
Of the more important of Robert's work are his four editions of the Greek New Testament, 1546, 1549, 1550, and 1551, the last published in Geneva. The first two are among the neatest Greek texts known, and are called O mirificam; the third is a splendid masterpiece of typographical skill, and is known as the Editio Regia. The edition of 1551 contains the Latin translation of Erasmus and the Vulgate but is not nearly as fine as the other three, and it is exceedingly rare. It was in this edition that the division of the New Testament into verses was for the first time introduced.