Find this product on Logos.com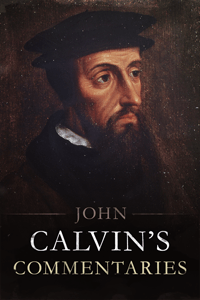 Calvin's Commentaries
This title works with the following Wordsearch products
Desktop
Highlights
Written in a clear, lucid style, it combines a profound reverence for the Bible
with a rare objectivity in its exegesis
One of the most influential commentaries of all time
From a reformed perspective
Named by the R. C. Ryan Center for Biblical Studies as one of the Best Tools for
Preaching and Teaching
Named as one of the 850 Books for Biblical Expositors by the Master's Seminary
Product Details
Through his commentaries Calvin developed all the central principles of Calvinism in his strict readings of the Old and New Testaments. Just as many theologians have before, Calvin not only gave excellent analysis of the text, but he also gave scriptural basis for "Calvinism" itself. Calvin's Commentaries covers the whole of the New Testament except for 2 & 3 John and Revelation. Not included from the Old Testament are the books of Judges, Ruth, 1 & 2 Samuel, 1 & 2 Kings, 1 & 2 Chronicles, Ezra, Nehemiah, Esther, Proverbs and Ecclesiastes.
About the Author
John Calvin (1509-1564), was a prolific scholar and French theologian. He was a pastor during the Protestant reformation and a principal figure in the development of the system of Christian theology, which is known as Calvinism.
Endorsements
Of the commentators I believe John Calvin to be the most candid.
Calvin was an exegetical genius of the first order. His commentaries are unsurpassed! He combined in a very rare degree all the essential qualities of an exegete
The Number one commentary on the whole Bible. Like Matthew Henry, Calvin didn't complete his expositions. Spurgeon described them as 'worth their weight in gold' and so they are.