Find this product on Logos.com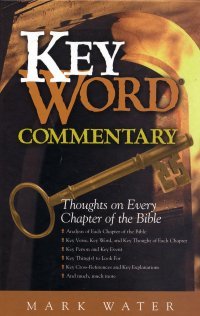 Key Word Commentary
Thoughts on Every Chapter of the Bible
Highlights
Provides a one-page overview for each and every chapter in the Bible
Ten keys are used to unlock a single chapter of the Bible
Introductions are provided for each section of the Bible, as well as for each book
Product Details
Unlock the riches of the God's Word with the Key Word Commentary. This book by Mark Water, provides a one-page overview for all of the chapters of the Old and New Testaments. Each chapter is analyzed, outlined, summarized, and on each page ten keys are used to unlock a single chapter of the Bible. These keys include:
Before and After - Gives the context of the preceding and following chapters in the Bible.
Analysis of Chapter - Breaks the chapter into sections with theme headings.
Key Verse - There is often more than one key verse in a chapter, but thinking about these selections will challenge you to understand the chapter.
Key Word - Considering the word chosen here will give the reader an opportunity to think carefully about the significance of the chapter.
Key Person/Event - It is surprisingly easy to miss the significant happening in a chapter of the Bible, even in those chapters you are familiar with, because you think you know all about it. Forcing yourself to note the key event and/or key person in a chapter will bring the content of the chapter into clear focus.
Key Thought - Discover why Dr. Martyn Lloyd-Jones thought Psalm 51 was the classic psalm on repentance. Or, find out which psalm Augustine valued so much in his personal worship of God.
Key Thing(s) to Look For - From the writings of Bible scholars of every century, you will be drawn to the most important point in each chapter.
Key Bible Cross-Reference - These cross-references engage you in one of the most profitable aspects of Bible study: comparing Scripture with Scripture.
Key "By Way of Explanation" - Using background details, puzzling words or ideas in the chapter will be clearly explained.
Key "Quotable Quote" - These quotes from expert Bible expositors offer illuminating commentary on the chapter, or one verse from the chapter.
About the Author
Mark Water was born in Devon, England and trained for the Anglican ministry at the London College of Divinity. He was ordained as an evangelical minister in 1966. For the past 20 years he has been engaged in the ministry of Christian literature as writer, editor and advisor. He has authored many works in addition to the Key Word Commentary such as the Bible Made Easy series, the Encyclopedia of Christian Quotations, Encyclopedia of Bible Facts and the New Encyclopedia of Christian Martyrs.