Find this product on Logos.com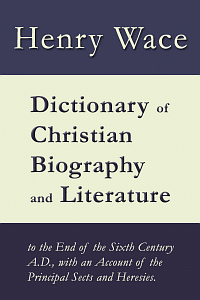 A Dictionary of Early Christian Biography
A Reference Guide to Over 800 Christian Men and Women, Heretics, and Sects of the First Six Centuries
Highlights
Features reliable sketches of major Christian personalities of the first six centuries
Analyzes the documents, creeds, and literature of the early church and its opponents
Describes the principal sects and heretics of early Christianity, including discussions of the theological tendencies of these opponents
Product Details
Discover essential, reliable information on over 800 Christian personalities, groups, and literature to the end of the sixth century A.D. in this unique, concise volume. It includes descriptions of the principal sects and heresies that challenged orthodox Christianity on several fronts during the early years.
About the Editors

Dr. Henry Wace (1836-1924) served as the Dean of Canterbury and noted turn-of-the century Bible scholar, author and editor. Most famous for his work on the four-volume Dictionary of Christian Biography and with Philip Schaff on the fourteen-volume Nicene and Post-Nicene Fathers, Second Series.
William Piercy was a church historian and editor who lived during the twentieth century.
Endorsements
Scholarly and authoritative essays written by outstanding church historians. They cover the shaping of American culture, and religious thought and economic society.