Find this product on Logos.com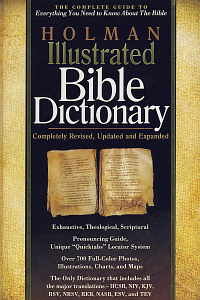 Holman Illustrated Bible Dictionary
Completely Revised, Updated and Expanded
Highlights
Exhaustive, Theological, Scriptural
Pronunciation guide for all proper nouns and other hard-to-pronounce words
Over 700 Full Color Photos, Illustrations, and Charts
Over 60 new, full color maps with map index
One of the Top 10 best-selling Christian reference works
Product Details
The Holman Illustrated Bible Dictionary is must-have Bible dictionary that has become one of the best-selling Bible reference tools since its original publication in 1991. This revised and expanded edition offers even greater value to Bible students and teachers.
The Holman Illustrated Bible Dictionary is designed both for those who need information quickly and those who want in depth treatments of hundreds of topics. Each entry begins with a brief definition of the word followed by more detailed information.
Most Bible dictionaries are just detailed definitions of subjects, however Holman Illustrated Bible Dictionary is much more. Here are some of the features:
Exhaustive definitions of all the people, places, things and events, dealing with every subject in the Bible
Unique scale drawings and reconstructions of Biblical places and objects based on careful archeological research
Major articles on theological topics, collective articles on plants, animals, occupations, etc.
Up-to-date archaeological information from excavations in Israel
Timeline that compares biblical history to world history
Many articles based on the original languages, but written in a user-friendly style. Technical language and abbreviations are avoided
Extensive cross-referencing of related articles
About the Editors
Trent C. Butler has a Ph.D. in biblical studies and linguistics from Vanderbilt University, has done further study at Heidelberg and Zurich, and has participated in the excavation of Beersheba. He served ten years on the faculty of the International Baptist Theological Seminary in Rüschilkon, Switzerland, and for twenty-two years as editor and editorial director for Holman Bible Publishers. Currently, he is a retired free-lance editor.
Chad Brand is Professor of Christian Theology at The Southern Baptist Theological Seminary. Before coming to the Seminary, he taught at North Greenville College. Dr. Brand is the author of many articles and reviews in publications such as Trinity Journal, Journal of the Evangelical Theological Society, and Journal of Biblical Manhood and Womanhood, and is Book Review Editor for The Southern Baptist Journal of Theology. He is also co-editor and co-author of The Apologetics Study Bible. Brand is also pastor of the Northside Baptist Church in Elizabethtown, Kentucky. He also serves as Associate Dean of Biblical and Theological Studies at Boyce College and is a Fellow for The Baptist Center for Theology and Ministry at New Orleans Baptist Theological Seminary.
Charles W. Draper earned his B.A., Baylor University; M.Div., Southwestern Baptist Theological Seminary; D.Min., Luther Rice Seminary; and Ph.D., New Orleans Baptist Theological Seminary. He is Associate Professor of Biblical Studies and is a member of the founding faculty of Boyce College. First ordained in 1964 he has spent 25 years in the pastorate and church staff positions. Dr. Draper has spoken over 3,000 times in five countries and 29 states, and has participated in more than 125 revivals, conferences, and special events. He has been published over 50 times. A dedicated teacher as well, since 1990 Dr. Draper has instructed students at several universities and seminaries, most recently at North Greenville College in South Carolina.
Archie England is the director of Baptist College Partnership and Associate Professor of Old Testament and Hebrew at New Orleans Baptist Theological Seminary. He received a Bachelors of Business Administration from the University of Mississippi, an M.Div. from Golden Gate Baptist Theological Seminary, and a Ph.D. from Mid-America Baptist Theological Seminary.