Find this product on Logos.com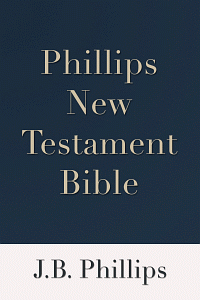 Phillips New Testament Bible
Revised Student Editon
Highlights
A Contemporary English version of the New Testament
Includes detailed introductions to every book of the New Testament
Product Details
The New Testament in Modern English was born out of a perceived need by J.B. Phillips, to translate a Bible that would speak in a clear, readable way. Phillips felt the King James Version of the Bible was intelligible to young people and he decided to use modern language to communicate ancient truths. Schooled in classical Greek, Phillips translated the original Greek Text and rendered it into a thought-for-thought paraphrase of the New Testament.The The New Testament in Modern English was first published in 1958, it was later revised in 1961.
With the help of his wife, and several friends, including some critics, Phillips began working on a new translation of the The New Testament in Modern English. For this translation he relied heavily on the latest Greek Text, published by the United Bible Societies in 1966. Some considerable parts of his former translations appear in The New Testament in Modern English but Phillips decided to re-consider and re-read every single Greek word of his earlier versions. This took Phillips more than two years to complete. In 1972 The New Testament in Modern English was published and in the introduction he states that his youthful passion for communication led him to paraphrase in his earlier versions. With this new translation he decided to curb that passion and stick as close as possible to the Greek text.
About the Author
John Bertram Phillips (1906-1982), was an English clergyman who had studied classical Greek at Cambridge University. Time Magazine described Phillips as "...he can make St. Paul sound as contemporary as the preacher down the street. Seeking to "transmit freshness and life across the centuries". Phillips work was undertaken primarily for the benefit of his Youth Club, and members of the his congregation, in a much bombed parish in S.E. London, during World War II. While ministering in bomb shelters with no tools to work with, apart from his own Greek Testament, he felt that since much of the New Testament was written to Christians in danger, it should be particularly appropriate to attempt a Bible translation that would convey the vitality and radiant faith as well as the courage of the early Church.
Endorsements
A suggestive and free modern paraphrase that brings to light many important shades of meaning found in the original. Makes good reading. Pastors will especially appreciate its originality.