Find this product on Logos.com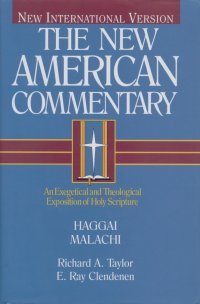 New American Commentary - Haggai and Malachi
Vol. 21a
Highlights
A thorough, verse-by-verse analysis
Insightful and technical - aimed at the serious Bible scholar
Great for the pastor or serious Bible student
Vast in scope, eventually to total 42 volumes
Over 40 scholars worked on the complete set
Named by the R. C. Ryan Center for Biblical Studies as one of the Best Tools for Preaching and Teaching
Product Details
The New American Commentary Series
In development for over a decade, The New American Commentary series is for those who have been seeking a commentary that honors the Scriptures, represents the finest in contemporary evangelical scholarship and lends itself to practical work of preaching and teaching. This comprehensive series serves as a minister's friend and a Bible student's guide.
The New American Commentary is based on the inerrancy of Scripture, focuses on the intrinsic theological and exegetical concerns of each Biblical book, and engages the range of issues raised in contemporary Biblical scholarship. Drawing on the skills and insight of over forty Bible scholars, the New American Commentary brings together scholarship and piety to produce a tool that enhances and supports the life of the church.
Highlights of This Volume
This latest volume of the New American Commentary covers two minor prophets who deal with major issues still facing God's people today. Haggai challenges us to leave the kingdom of self and serve the kingdom of God. Malachi addresses issues of worship, marital fidelity, and materialism. Solid historical, grammatical, and theological exposition is found here that will renew the mind and fill the heart.
About the Authors
Richard A. Taylor is Professor of Old Testament Studies and Director of the Ph.D. Program at Dallas Theological Seminary. He received his B.A., at Bob Jones University, in 1966; M.A., 1968; Ph.D., 1973; M.A., Catholic University of America, 1985; Ph.D., 1990.
Dr. Taylor has accumulated more than 30 years of graduate-level teaching experience and maintains his academic sharpness through active memberships in a dozen professional societies and groups. Dr. Taylor's specialties include Aramaic studies and Syriac literature. His travels have taken him throughout Central America, Europe, the Near East, Canada, and India.
E. Ray Clendenen has been a staff worker with InterVarsity Christian Fellowship, a Baptist pastor in Illinois, a Christian college professor (Philadelphia Biblical University and then Criswell College), an adjunct seminary professor (The Southern Baptist Theological Seminary), and an editor. He is currently Director of Academic Publishing for B&H Publishing Group. He is also the general editor of The New American Commentary, 38 volumes of which have now been published, and he is the series editor for the New American Commentary Studies in Bible and Theology.
Ray studied anthropology at Rice University (B.A.), Hebrew and Old Testament at Dallas Theological Seminary (Th.M.), Bible and Ancient Near Eastern Studies at Dropsie University (M.A.), and Linguistics and ancient Greek history at The University of Texas at Arlington, associated with The Summer Institute of Linguistics (Ph.D.).
Besides encouraging and assisting authors of academic books in biblical and theological studies, Ray's special interests are text linguistics (also known as discourse analysis), Hebrew grammar, translation theory, hermeneutics, and the Minor Prophets, especially the book of Malachi.
Ray served as Old Testament editor for a study Bible and wrote a brief popular commentary on the Minor Prophets for The Holman Bible Handbook. He was the associate editor of the Holman Christian Standard Bible translation project (2004), an associate editor of the Apologetics Study Bible (2007), and co-editor of Calvinism: A Southern Baptist Dialogue (2008). He has also written many chapters/articles and reviews for books and scholarly journals.