Find this product on Logos.com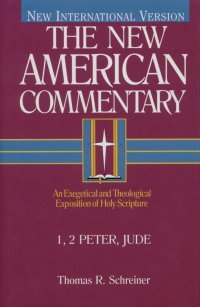 New American Commentary - 1 and 2 Peter, Jude
Vol. 37
Highlights
A thorough, verse-by-verse analysis
Insightful and technical aimed at the serious Bible scholar
Vast in scope, eventually to total 42 volumes
Over 40 scholars worked on the complete set
Named by the R. C. Ryan Center for Biblical Studies as one of the Best Tools for Preaching and Teaching
Product Details
The New American Commentary Series
In development for over a decade, The New American Commentary series is for those who have been seeking a commentary that honors the Scriptures, represents the finest in contemporary evangelical scholarship and lends itself to practical work of preaching and teaching. This comprehensive series serves as a minister's friend and a Bible student's guide.
The New American Commentary is based on the inerrancy of Scripture, focuses on the intrinsic theological and exegetical concerns of each Biblical book, and engages the range of issues raised in contemporary Biblical scholarship. Drawing on the skills and insight of over forty Bible scholars, the New American Commentary brings together scholarship and piety to produce a tool that enhances and supports the life of the church.
Highlights of This Volume
Thomas Schreiner, an articulate and highly respected biblical scholar and theologian, guides the reader carefully through these practical, yet profound epistles. The two letters of Peter and the epistle of Jude remind us that God's grace in Christ makes a difference in the way believers live. We were chosen not only for salvation but also for obedience. Too often our churches suffer from moral breakdown and a false view of tolerance. Christians often avoid any word of criticism or judgment because they fear that strong words compromise love. We learn from these epistles that love manifests itself in godly living and that right doctrine must be matched by Christlike lives. The Holy One calls us to be holy as well.
About the Author:
Dr. Thomas R. Schreiner earned his B.S.at Western Oregon University; M.Div., Th.M., Western Conservative Baptist Seminary and his Ph.D., at Fuller Theological Seminary. He is the Professor of New Testament Interpretation and Associate Dean, Scripture and Interpretation at the Southern Baptist Theological Seminary. Dr. Schreiner joined the Southern Seminary faculty in 1997 after serving 11 years on the faculty at Bethel Theological Seminary. He also taught New Testament at Azusa Pacific University. Dr. Schreiner, a Pauline scholar, is the author or editor of several books including:
Romans, in the Baker Exegetical Commentary Series on the New Testament, Interpreting the Pauline Epistles, The Law and Its Fulfillment: A Pauline Theology of Law, The Race Set Before Us: A Biblical Theology of Perseverance and Assurance
and several others.
Dr. Schreiner is also the preaching pastor/staff elder at Clifton Baptist Church since August, 2001. He formerly served as preaching pastor at Trinity Baptist Church of Louisville. When the two churches, Clifton and Trinity merged their congregations together, he was called to serve as the preaching pastor. Dr. Schreier and his wife, Diane, have four children.
Endorsements
The New American Commentary is nothing short of excellent. The scholarship is superb and up-to-date. The format is fresh and is totally given to a revealing of the meaning of the text. No stone seems to be left unturned. Both exegetically and homiletically, pastors will find a veritable gold mine of information. I believe this series will set the standard for years to come.