Find this product on Logos.com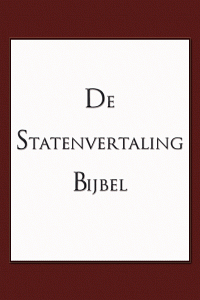 SVV or Dutch Statenvertaling Bible (Bijbel)
Product Details
This is a Dutch translation of the Bible, with the following description:
Door last van de Hoog-Mogende heren Staten-Generaal der verenigde Nederlanden en volgens het besluit van de Synode Nationaal gehouden te Dordrecht in de jaren 1618 en 1619 uit de oorspronkelijke talen in onze Nederlandse taal getrouwelijk overgezet.
The Statenvertaling (Dutch for State Translation) or Statenbijbel (Dutch for State Bible) is the first official Bible translation from the original Hebrew and Greek languages to the Dutch language, first published in 1637. Up until that time, several different translations were used, in particular the one from Martin Luther but it was in High German and had a Lutheran interpretation. The existing Dutch Bibles were merely translations of other translations. At the Synod of Dordrecht in 1618/19, it was deemed necessary therefore to have a new translation, accurately based on the original languages in imitation of the King James Bible from 1611. The Synod requested the Estates-General of the Netherlands to commission it. In 1626 the States-General accepted the request from the Synod and the translation started. It was completed in 1635 and authorized by the States-General in 1637. From then until 1657 half-a-million copies were printed. This translation remained authoritative in protestant churches well into the 20th century. The source material for the Old Testament of the Statenvertaling was the Masoretic Text. The New Testament was translated from the Textus Receptus.