Find this product on Logos.com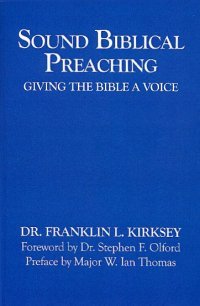 Sound Biblical Preaching
Giving The Bible A Voice
Highlights
Written by a WORDsearch user
Well written and thoroughly researched
A must have for anyone considering the ministry or who has served in that role for many years.
Product Details
Sound Biblical Preaching: Giving the Bible a Voice — is a comprehensive book on preaching that remarkably provides a survey of the whole subject in a short page span. Dr. Franklin L. Kirksey presents a compendium of information that is a veritable anthology of great preachers, past and present, to encourage, instruct and inspire the reader. This highly recommended book has a motivational message for the beginning preacher, the seasoned veteran of the pulpit and for one exploring God's call to preach the Word. As a result of careful reading and extensive research, Kirksey offers many practical "how to" insights, for example: How to accept the call of God; How to make sure you have been called and How to understand and undertake the call of God. The author insightfully weaves the sobering realities of the pastorate and the heavenly idealism of the pulpit ministry into this practical handbook that should be required reading for every preaching class. This "must read" book has been described as "very readable," and "a fast read with powerful punch."
About the Author
Dr. Franklin L. Kirksey was born on November 22, 1961 in Mobile, Alabama and was born again on May 16, 1965 in Citronelle, Alabama. Kirksey was called to the ministry after high school graduation in 1979 and has been a pastor for almost twenty years.
He received his B.A. degree (cum laude) from William Carey University, Mississippi, in 1983 where he was inducted into the Alpha Chi National Honor Society; the M.Div. degree from New Orleans Baptist Theological Seminary, Louisiana, in 1986; the D.Min. degree from Southern Baptist School for Biblical Studies, Florida, in 2001. He was inducted into the R.G. Lee Society of Fellows at Union University, Jackson, Tennessee in 2002.
Dr. Kirksey is pastor of First Baptist Church of Spanish Fort, Alabama where he has served since 2004. He has published messages in Pulpit Helps magazine, and PastorLife. Kirksey writes newspaper columns for the Call News, Citronelle, Alabama and the Press -Register, Mobile, Alabama.
Endorsements
Sound Biblical Preaching is a welcome contribution to the high and holy calling to 'rightly divide the word of truth'.