Find this product on Logos.com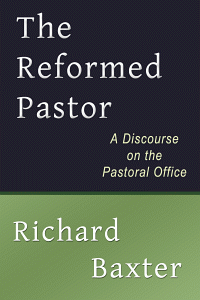 The Reformed Pastor
A Discourse on the Pastoral Office
Product Details
This a true classic text of the pastorate, and should be read by every young minister, before he takes on a pastorate of his own. The practical applications are useful to be reviewed every few years to reflect and refresh the passion and zeal of helping believers grow to be more like Christ.
About the Author:
Richard Baxter was born at Rowton, in Shropshire, in 1615. Richard's early education was poor, being mainly in the hands of the local clergy, themselves virtually illiterate. He was helped by John Owen, master of the free school at Wroxeter, where he studied from about 1629 to 1632, and made fair progress in Latin. On Owen's advice he did not proceed to Oxford but went to Ludlow Castle to read with Richard Wickstead, chaplain to the Council of Wales and the Marches.
He was reluctantly persuaded to go to court, and he went to London under the patronage of Sir Herbert, Master of the Revels, with the intention of doing so, but soon returned home, resolved to study divinity.
In 1638 Baxter became master of the free grammar school at Dudley, where he commenced his ministry, having been ordained and licensed by the Bishop of Worcester. His success as a preacher was at first small; but he was soon transferred to Bridgnorth, in Shropshire. Baxter remained at Bridgnorth for nearly two years, during which time he took a special interest in the controversy relating to Nonconformity and the Church of England. He soon became alienated from the Church on several matters; and after the requirement of the "et cetera oath," he rejected episcopacy in its English form. He became a moderate Nonconformist; and continued as such throughout his life. Though regarded as a Presbyterian, he was not exclusively tied to Presbyterianism, and often seemed prepared to accept a modified Episcopalianism. All forms of church government were regarded by him as subservient to the true purposes of religion.
In 1641, when he was twenty-six Baxter was elected as the minister of Kidderminster. His ministry continued for about nineteen years. He formed the ministers in the country around him into an association, uniting them irrespective of their differences as Presbyterians, Episcopalians and Independents. The Reformed Pastor was a book which Baxter published in relation to the general ministerial efforts he promoted.
From 1662 until the indulgence of 1687, Baxter's life was constantly disturbed by persecution of one kind or another. His worst encounter was with the chief justice in 1685. He had been committed to the King's Bench Prison on the charge of libeling the Church in his Paraphrase on the New Testament, and was tried on this accusation. Baxter was sentenced to pay 500 marks, to lie in prison till the money was paid, and to be bound to his good behavior for seven years. Baxter was now seventy, and remained in prison for eighteen months, until the government, hoping to win his influence, remitted the fine and released him.
Baxter's health had grown even worse, yet this was the period of his greatest activity as a writer. He wrote 168 or so separate works. Without doubt, however, his most famous and enduring contribution to Christian literature was a devotional work published in 1658 under the title Call to the Unconverted to Turn and Live. The remainder of his life, from 1687 onwards, was passed peacefully. He died in London in 1691, and his funeral was attended by churchmen as well as dissenters.
Endorsements
This book has had a profound impact on pastors and Christians since its writing in the 1600's.