Find this product on Logos.com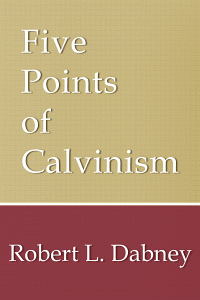 Highlights
From a Calvinistic/Reformed Perspective
Product Details
Five Points of Calvinism is a cogent defense of Calvinism against the charge of the Arminian thought that the doctrine of eternal security promotes "unholy living". This is a very detailed analysis of the Five Points of Calvinism:
Original Sin
Effectual Calling
God's Election
Particular Redemption
Perseverance of the Saints
About the Author
John Calvin (1509-1564), was a prolific scholar and French theologian. He was a pastor during the Protestant reformation and a principal figure in the development of the system of Christian theology, which is known as Calvinism.
Endorsements
The most conspicuous figure and the leading theological guide of the Southern Presbyterian Church, the most prolific theological writer that Church has as yet produced, and for a period of over forty years one of the most distinguished and probably the most impressive teacher of its candidates for the ministry.