Find this product on Logos.com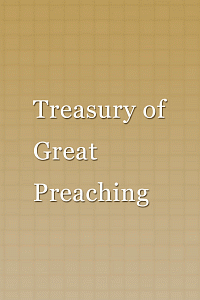 A Treasury of Great Preaching
Highlights
Features some of the best sermons of all time
Contains 458 sermons, each with his own topical index
John Calvin, Charles Finney, Martin Luther, Robert Murray McCheyne, Dwight Lyman Moody, George H. Morrison, Billy Sunday, Ruben Archer Torrey, John Wesley and George Whitfield sermons are featured.
Product Details
A Treasury of Great Preaching features some of the most influential preachers of the Christian Faith. It features John Calvin with 14 sermons, Jonathan Edwards with 17 sermons, Charles Finney with 106 sermons, Martin Luther with 79 sermons, Robert Murray McCheyne with 21 sermons, Dwight Lyman Moody with 16 sermons, George H. Morrison with 6 sermons, Billy Sunday with 2 sermons, Ruben Archer Torrey with 5 sermons, John Wesley with 131 sermons, George Whitefield with 61 sermons.
This Five-Volume Treasury contains 458 sermons, each with its own topical index.
About the Preachers
John Calvin (Jean Cauvin)(Born at Noyon in Picardy, France, 10 July, 1509, and died at Geneva, Switzerland May 27, 1564.) Considered to be the father of the standard of orthodox Protestant belief in all the Churches known as "Reformed."
Calvin wrote a systematic presentation of Christian doctrine and life, known as The Institutes of the Christian Faith in Latin in 1536, and a final edition in 1559). Most important of Calvin's Institutes was obedience to God's will as defined in the scriptures. Salvation, he wrote, came by faith in God's grace, mediated through word and sacrament by the power of the Holy Spirit. Good works were consequences of the union with Christ in faith, not the means of salvation. Calvin considered the law an indispensable guide; prayer provided nourishment for faith. He argued that faith was a divine gift resulting from God's unconditional decree of election.
Jonathan Edwards (Born October 5, 1703 in East Windsor, Connecticut; died Princeton, NJ March 24, 1758) Edwards was the leader of "The Great Awakening" in New England. Edwards was a fine preacher with a great combination of reason and passion which helped him reach out to people of all walks of life. He was an adamant defender of Calvinist theology. Edwards was probably best known for his sermon "Sinners in hands of an Angry God".
Charles Grandison Finney (Born at Warren, Connecticut 1792, and died August 1875.) Considered my many to be the father of modern revivalism with over 500,000 conversions resulting from his ministry. No one person has influenced the subject of revival in America than Finney.
Finney's greatest desire was to become a lawyer, which is a far cry from an evangelist. But while reading Blackstone's Commentaries on Law, he noted continuous references to the Holy Scriptures, which Blackstone viewed as the highest authority in the land. This, along with repeated urging from a friend, moved Finney to buy a Bible, and he soon was reading it more than anything else. On October 10, 1821, out in the woods by himself, he made his decision to give his heart to Jesus.
Finney is also known for the "modern day alter call", which in his day was not something you did as stepping out in faith, but very simply during revivals the local preachers were gathered at the front so that they could pray with those who were making a decision so the local people could be integrated into a local congregation.
Martin Luther (Born at Eisleben, Germany 10 November, 1483; died at Eisleben, 18 February, 1546.) Luther is best known for nailing the 95 Thesis to the door of the Wittenberg Church that birthed the Protestant Reformation. Although the document contained an attack on papal abuses and the sale of indulgences by church officials, Luther really felt like the Church, and the Pope himself no longer affirmed the Gospel.
Luther felt that the heart of the Gospel was the doctrine of justification by faith – the teaching that Christ's own righteousness is imputed to those who believe, and on that ground alone, they are accepted by God.
Robert Murray McCheyne (Born at Edinburgh, Scotland 21 May 1813; died March 25, 1843) McCheyne really poured his heart into ministry. Not only was a he an accomplished Hebrew scholar but he had an excellent taste in music and was one of the first of the Scottish ministers to take an active part in the improvement of the congregational service of praise. McCheyne's ministry was short, he began the ministry at 23 at the age of 29, during an epidemic of typhus fever he was struck down while visiting sick people in the parish.
Dwight Lyman Moody (Born February 5, 1837; died December 22, 1899 Northfield, Massachusetts) Moody is probably best known for his passion for the lost. After his conversion, Moody dedicated his whole life to sharing the Gospel with the lost, in any situation. An example of this was the Civil War battle at Murfreesboro, TN in January, 1863, under fire, he went among the wounded and dying asking, "Are you a Christian?""
Moody shared the gospel with millions in American and England through his crusades. He founded the Northfield Schools in Massachusetts, Moody Church and Moody Bible Institute in Chicago, and the Colportage Association.
George H. Morrison (Born in 1866 - died in 1928) Morrison was a master of imagination in preaching, yet his messages were solidly biblical. Visitors flocked in droves to Glasgow, Scotland to hear Morrison's eloquent preaching during his 26-year pastorate at the Wellington United Free Church.
Billy Sunday (Born Ames, IA Nov 19, 1862; died in Chicago November 6, 1935) From Chicago White Sox Outfielder to famous evangelist, Billy Sunday is still remembered today for his energetic preaching style and large, successful evangelistic campaigns across the United States. In his lifetime, Billy Sunday addressed over 100 million people without the aid of loud speakers, TV, or radio.
Sunday was a great ballplayer, he became the first player to run the bases in 14 seconds, and set records for stolen bases.
Later in life he was offered $1,000,000 to be in the movies, but again declined in order to continue the evangelistic ministry.
Ruben Archer Torrey (Born January 28, 1856 in Hoboken, NJ; died October 26, 1928 Asheville, North Carolina.) Torrey is one of the few people in history who are gifted in several areas: author, educator, world evangelist and pastor. Torrey may best be known for his devout prayer life and his desire for winning souls. One of Torrey's favorite lines was.."I love to preach the Gospel of Jesus Christ."
Torrey was able to share the Gospel and influence many people as pastor of what is now Moody Church in Chicago, he served as Dean of what is now BIOLA. He wrote over 40 books on many different subjects.
John Wesley (Born June 28,1703 in Epworth in Lincolnshire; died March 2,, 1791) He is best known what was described as Wesley's rule: Do all the good you can, in all the ways you can, to all the souls you can, in every place you can, at all the times you can, with all the zeal you can, as long as ever you can.
Influenced by the Moravians' doctrine of free justification by faith and of the Holy Spirit's witness, Wesley began his ministry in Colony of Georgia, which would span the Wesleyan Tradition, and the Worldwide Methodist church. He is also credited with starting the "circuit rider"", a traveling preacher to anyone that would listen.
George Whitefield (Born June 28,1703 in Epworth in Lincolnshire; died March 2,, 1791) Whitefield is best known for sparking the "Great Awakening" in America. Whitefield's preaching was always directed to the listener to invoke an emotional response. He always tried to simply the message of the Gospel so that anyone could understand, but still appreciate God's truths of the Bible.
Whitefield not only had a great impact in the lives and souls of people he also had a great impact in lives of famous leaders in Christianity. Charles Spurgeon, the Preacher of Preachers considered Whitefield his role model. John Wesley and Whitefield were both good friends although they had two radically different views of Theology. Whitefield was a Calvinist, while Wesley was influenced by James Arminius, thus he was Arminian.