Find this product on Logos.com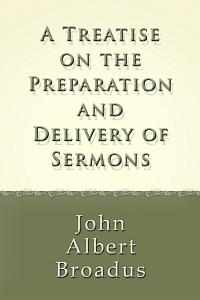 A Treatise on the Preparation and Delivery of Sermons
Highlights
First published in 1870, but still a standard textbook for seminaries today
Gives suggestions for the preparation and conduct of preaching
Broadus is called by many as the father of American expository preaching
Product Details
This is the classic "Edwin Charles Dargan Edition" of John Broadus' great book, "A Treatise on the Preparation and Delivery of Sermons." Although the original work was published in 1870 it has been edited many times and is still in print today. This is the best of Broadus on the topic of preaching, as his students and later fellow instructors worked with him before his death to revise and update this great work on Homiletics. This is a must have for all who want to preach and teach to change lives through the power of God's Holy Word.
By 1900, the book had passed through twenty-five editions. Theological schools of many Protestant denominations were using it either as a required text or a highly commended supplement. TWo separate editions were published in England. It was translated into Chinese for the mission schools.
About the Author
John Albert Broadus (1827 - 1895) is best known for his Treatise On the Preparation and Delivery of Sermons, it has been revised and edited many many times. He also published Lectures on the History of Preaching (1876, revised, 1896); A Commentary on the Gospel of Matthew (1886); Sermons and Addresses (1886); Jesus of Nazareth (1890); Memoir of James Petigru Boyce (1893); and the Harmony of the Gospels (1893). Served as Professor of New Testament Interpretation and Homiletics, Southern Baptist Theological Seminary, 1859-1895.
Endorsements
We have read the book with absorbing interest. Rich, deep thoughts and eminently practical suggestions abound in these pages.
It bears the marks of close study, of careful deliberation, is always suggestive, breathes a good pure spirit, and has a style that is always clear and attractive.
A book on preaching by a master of the art. Everywhere in this book there that intensity of earnestness which is at once the charm and characteristic of his preaching.
A judicious and exhaustive treatise, destined, we think, to occupy a very prominent, if not highest place among books on Homeletics.