Find this product on Logos.com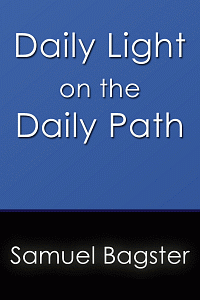 Daily Light on the Daily Path
Highlights
Scripture is quoted from the King James Version
Product Details
Daily Light on the Daily Path has been a favorite daily devotional scripture reading, decade after decade, even century after century. It consists of brief groupings of scripture passages which speak to prominent Biblical themes, one for morning and one for evening, for each day of the year. It appends no commentary, but simply allows scripture to speak for itself.
About the Authors
The origins of Daily Light on the Daily Path are inextricably connected to the Bagster family and the publishing company which bore the same name - Samuel Bagster & Sons Ltd. Samuel Bagster was born on 26th December 1772 on the south coast of England. When Samuel was seven years old he was sent away to school. Samuel was apprenticed to a bookseller in The Strand, after which time he he took the entrepreneurial step of opening his own bookshop at No 81 The Strand on 19th April 1794, when he was still only twenty-one years old.
Unsurprisingly, given this very specific Christian background, Samuel committed to never selling any book which might be considered questionable in taste or subject – an approach which set him apart from the general run of society, even by eighteenth century standards. Samuel and his wife Eunice had twelve children – but it was their tenth child Jonathan who was primarily responsible for the idea and method by which Daily Light was compiled. Jonathan was the "editor-in-chief", while his daughter Ann was his chief assistant.